manroland web systems strengthens market presence in France
Thursday, July 17, 2014
Press release from the issuing company
Antoine Chevalier takes over management of new Market Organization manroland web systems France SAS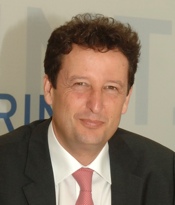 Augsburg – On the part of manroland web systems GmbH, Antoine Chevalier takes over the management of the newly founded market organization in France.

manroland web systems has established an own subsidiary in France. "We rely on the close partnership and cooperation with our customers. As shown before in other key markets, we constantly expand our local service offerings. The new subsidiary works closely with experts from the production site in Augsburg. Main target is to offer a competitive service to our customers", explains Joern Gossé, Managing Director at manroland web systems.

Antoine Chevalier becomes new Managing Director at manroland web systems France SAS
Antoine Chevalier (48) was studying industrial engineering and started his career with Heidelberg in 1989. There he held different positions at the Sales and Product Management Department and was responsible for customer service for the EMEA region at Goss International. In the course of his change to manroland web systems, Antoine Chevalier states: " I am looking forward to establishing the market organization in France. I truly feel confident about the fact, that our competent team, in combination with the sales experience of Franck Tavernier and the know-how of the new service technicians for the web offset business, will offer service at highest quality standards that is reasonable for a perfect customer relation and loyalty for existing and future customers. I am looking forward to the challenge of visiting all our customers and fulfilling all their requirements with a local team and my own experience at the printing industry", he finishes his statement.

The new sales and service organization manroland web systems France SAS will be sited in Noisy le Sec and offers newspaper presses, solutions for commercial and digital printing and spare parts, services and upgrades.

"To work a challenging and competitive web offset market, the quality of service is of particular importance. We have to provide highest performance to our customers over the entire lifecycle of their press. At manroland web systems, we constantly develop our service offerings and product upgrades. Therewith, we improve the quality and lifecycle costs of our products. We have longterm maintenance contracts with several customers, what shows our commitment and trust in the quality of our equipment", concludes Franck Tavernier, Sales Responsible at manroland web systems France.

manroland web systems further structures its markets
After a positive result in 2013 and a successful start in 2014, now the next step towards expanding the sales organization is following.These changes once more emphasize that manroland web systems claims to be a reliable, future-oriented and highperforming partner for its customers and constantly works on intensifying its market presence.
To post a comment Log In or Become a Member, doing so is simple and free