Apprentice Success for Baker Goodchild
Thursday, July 17, 2014
Press release from the issuing company
Birmingham-based direct mail fulfilment and print management services provider, Baker Goodchild, has announced that two of its apprentice interns have been taken on by the company following successful completion of their internships, with a third currently in the early stages of his apprenticeship role. This follows recent investments in new equipment as the business continues to grow and expand.
Baker Goodchild has taken on a number of apprentice/interns in the past to support the development and growth of the business, with the company believing in the importance of supporting young people and giving them an opportunity to develop their skills and potential with the company.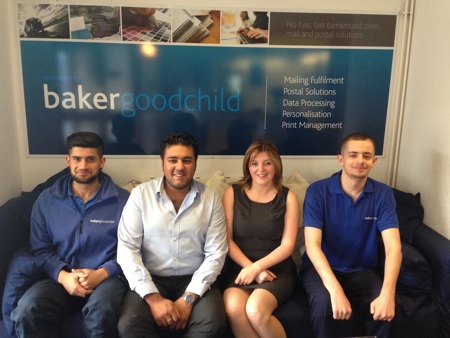 Pictured (from left to right): Asif, Mohammed, Lorraine and Connor.
The two apprentice interns, Mohammed Pandhair and Asif Mohammed, have now been appointed to important roles within the company, having shown great initiative and development since being taken on by the company following completion of their respective University Courses. The third, Connor Sadik, is currently just three months into his role of Apprentice Campaign Co-Ordinator.
Mohammed Pandhair has been appointed to the role of Marketing Executive, having been taken on by Baker Goodchild as a Marketing intern during the third year of his four-year course at Kingston University in London.
Speaking about what he has gained from his apprenticeship/internship, Mohammed stated, "The valuable experience that I have gained is how to work within a fast paced work environment. Developing reports after in depth analysis of scenarios then finding suitable methods to control the scenarios. Also it boosted my drive and ambition and gave me a clear view of the career path I would like to follow."
Mohammed's daily duties at Baker Goodchild will include; Increasing traffic to the Baker Goodchild website, as well as increasing the amount of new business customers coming to the company. He will also be responsible for developing and executing marketing strategies that have been put in place to grow the business.
Revealing what his future ambitions are, Mohammed added, "I would like to stay with Baker Goodchild as part of their marketing department, and develop an internal marketing team within Baker Goodchild as the business continues to grow. I also hope to work my way up as a marketing manager within the next couple years."
Asif Mohammed studied for three years at Birmingham Metropolitan College, and was taken on by Baker Goodchild as a Data and Laser Apprentice. He has now been appointed to the role of Data and Laser Executive, following successful completion of his internship.
Commenting on what he felt he has gained from the apprenticeship/internship at Baker Goodchild, Asif revealed, "I have successfully attained Level 1 and 2 qualifications In English and maths and IT, and have also gained industrial recognised qualifications." He added, "Being within a working office environment and working within a team has been, and will continue to be, an experience within itself."
Asif's daily duties at Baker Goodchild include; Processing data for clients to have them arranged in a suitable format to print for dispatch. Ensuring a high level of security and quality checks are in place, so that during every process a quality control procedure is executed. When a job has reached its final stages before printing Asif takes the sole responsibility to contact the client to show them a sample of the direct mail piece for verification and confirmation.
Revealing his future ambitions at Baker Goodchild, Asif said, "I would like to develop further knowledge and experience within the IT sector at Baker Goodchild. It is a fast working environment which keeps me on my toes which I enjoy, and I would like to see myself managing a small team of Data and Laser apprentices within the company." He concluded, "I would like to give appreciation back to the company for what the IT facilities manager has taught me during the previous 18 months."
Connor Sadik joined the company straight from Handsworth Grammar School, and is three months into his apprenticeship in the role of Campaign Co-Ordinator, where he assists the Campaign Manager and other Departmental Managers in their daily duties amongst other duties.
Speaking about the success of the latest apprentice interns, Baker Goodchild Managing Director Lorraine Burnell stated, "Having apprentices within our company gives students the opportunity to develop interests within a business environment and obtain a career path, they are eager to learn, develop new skills and enhance their knowledge in a niche industry such as ours."
Lorraine added, "We are investing time and training these apprentices to ensure they placed in the departments that suits their qualities and abilities and to date all the apprentices we have taken on have become full time employees of the business."
Based in the heart of Birmingham, close to the city centre, Baker Goodchild is a privately-owned company with over 19 years extensive experience in providing print, mail and postage solutions, throughout the UK and Internationally.
To post a comment Log In or Become a Member, doing so is simple and free