KBA Rapida 145 Installed at Italian Packaging Printer Cartografica Veneta
Wednesday, July 16, 2014
Press release from the issuing company
A highly automated large-format KBA Rapida 145 with seven printing units, coater and triple extended delivery will soon be installed at Cartografica Veneta in Lonigo (Vicenza), Italy.
The new press is equipped with a board handling and high-speed package, and is raised by 630mm (24.8in). Cartografica Veneta has thus invested in cutting-edge press technology and has strengthened its competitiveness in the packaging market for the future.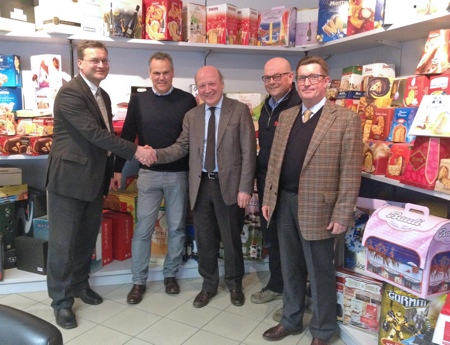 Sascha Fischer (l), head of KBA Complete Services & key account manager Europe at KBA, and Joachim Nitschke (r), managing director of KBA Italia, congratulate Giuseppe Tassoni, president of Cartografica Veneta, as well as managing director Dario Lovato (2nd left) and Carlo Baraldo (2nd right) on the conclusion of the contact
Cartografica Veneta was founded as a small printshop by Bruno Tassoni in 1949. The modest firm has since grown into an impressive packaging business with three production plants covering an area measuring 100,000m². In 1969 Cartografica Veneta installed large-format presses for packaging printing in a new pressroom. Today the firm has three presses, including a Rapida 162 with six inking units and two coaters from 2003.
Makeready champion in large format
The new Rapida 145 which prints at speeds of up to 17,000sph boosts productivity significantly compared to the previous press series due to its extremely short makeready times. This is ensured by extensive automation with a raft of winning features in large format, such as sidelay-free infeed (DriveTronic SIS), simultaneous plate changing for all printing units thanks to dedicated drive technology (DriveTronic SPC), parallel washing processes during plate changing with CleanTronic Synchro(simultaneous washing of blanket and impression cylinder), changing coating formes in parallel to plate changing with DriveTronic SFC and anilox roller sleeves that can also be changed within minutes by only one operator. The press is also equipped with typical packaging printing components, such as automatic nonstop facilities and pile logistics, EES(Emission Extraction System) in the delivery and energy-savingVariDryBlue drying systems which recirculate heat thus improving efficiency, operation and the energy balance further. In addition the Rapida 145 features KBA DensiTronic Professional (densitometric and spectral colour measurement, also in the printed image) and ErgoTronic ACR (register measurement system) for quality control and management.
The company is successfully pursuing a sustainable course of growth with continual investment in cutting-edge production systems and processes. Nevertheless, it predominantly focuses on packaging made out of high-quality paper and board. Along with the production of packaging for food and beverages, Cartografica Veneta is also active in the general packaging sector. Challenging, specialised packaging round off the firm's broad product portfolio.
To post a comment Log In or Become a Member, doing so is simple and free