Chris Leyes Joins Graphco Sales Team in Ohio, Indiana, Michigan, Kentucky and Surrounding Areas
Wednesday, July 09, 2014
Press release from the issuing company
Brings Years of Industry Experience and Solid Customer Relationships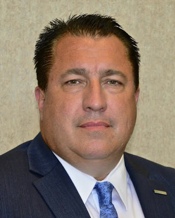 CLEVE, OH - Chris Manley, President of Graphco, is proud to announce the recent appointment of Chris Leyes as Business Development Manager covering Ohio, Indiana, Michigan, Kentucky and Surrounding Areas.
Chris Leyes is a recognized industry veteran, with more than 26 years of experience with a broad base of solid customer relationships established in the graphic arts, packaging, offset and digital equipment sales industry. Most recently, Chris was part of the sales team of Komori America Corporation. His years of print industry relationships give him a competitive view of the value issues in the industry, the crucial demands on productivity and constant quest to show true return on printing equipment investments. A graduate of the University of Cincinnati, he is active in both PIANKO and the Great Lakes Graphics Association.
"We're delighted to have Chris Leyes join our expanding sales presence in the Ohio Valley and surrounding areas while expanding our reach into the E. Michigan market, as well, " comments Chris Manley. "We are expecting great things from Chris with his strong customer relationships and anticipate he will immediately hit the ground running with a full portfolio of the Graphco high-quality offset and digital product offerings as well as selling the full Ryobi line with the LED UV curing technology. "
In his new role, Chris will be responsible for selling the full Ryobi product line with an emphasis on the 8-up RYOBI 920, the 6-up RYOBI 750 and the value priced 6-up RYOBI 760 Series presses all of which are now available with LED UV curing technology. "I'm excited to be able to offer my customers the phenomenal Ryobi LED-UV presses, that have become the new global standard", says Chris Leyes, "as well as our other high-end, quality driven finishing solutions and digital presses that Graphco represents. I look forward to these new opportunities in my career."
For more information on the full Ryobi line and the new LED-UV curing technology with Ryobi 920, Ryobi 760 and Ryobi 750 go to http://graphco.com/products/ryobi/ or contact Chris Leyes at cleyes@graphco.com.
To post a comment Log In or Become a Member, doing so is simple and free