Athena Graphics – successful with Flint Group's nyloflex® NExT
Friday, June 27, 2014
Press release from the issuing company
Innovative Exposure Technology improves Quality, Efficiency and Productivity
Flexibility, service and quality as a key to success
In 1991, Geert Cosaert established Athena Graphics as a new player in the flexo prepress area in Belgium. Five years later, his youngest son and current director, Ignace Cosaert, joined the company. The printing business was nothing new for the family, as the great-grandfather already had his own offset printing shop in the Western Flemish town of Roeselare (Belgium). The family company flourished, and after only a short period of time, offices in France and the Netherlands were established. In 2011, the company moved into the newly constructed head office in Roeselare. Today, about 80 people are employed at the three sites, and they supply to customers all over Europe. Among the clients rank printers and retailers, as well as brand owners in very different branches ranging from the food industry to producers of pharmaceuticals.
A flat hierarchy, which allows fast decision making, well trained and highly motivated staff members –is the Cosaert's family secret to its success. These values along with regular training sessions and high flexibility are the basis for a permanent competitive edge. Customers appreciate the excellent product quality and the company's outstanding service. Needless to say, Athena Graphics obtained its ISO certificate in 1999. Another advantage is the Athena Academy, which offers tailor-made training to all those who are involved in packaging printing – no matter whether they are marketers, purchasers, printers or designers.
With several online service tools, the workflow and approval process for the customer is simple. The complete order processing, for example, is web-based. Additionally, a server supported digital data archive is provided, to which they can refer at any time. And last, but not least, proofing solutions of the highest quality are offered, which can be printed on different kinds of substrates and used as mock-ups or dummies.
Many years of cooperation with Flint Group
From the very beginning, Athena Graphics and Flint Group cultivated a strong partnership. Via the Belgian distributor Plantin sprl. a series of printing plates were purchased, such as: nyloflex® ACE Digital or nyloflex® FAC Digital printing plates for flexographic printing, but also the coating plate nyloflex® Gold A for print finishing in offset applications. Plantin was founded in the year 1911, and there has been a close cooperation with Flint Group for many decades. Initially they distributed K+E® printing inks, and later on they included nyloflex® and nyloprint® printing plates in the product range and marketed them with great success.
First experiences with flat top dots
"For years our company has been well-known for our high-quality flexographic printing plates", says Ignace Cosaert, managing director at Athena Graphics." We put a lot of energy in research to find better production technologies and to enable quality improvements, such as a reduction of dot gain, an optimisation of ink transfer or printing stability. Our technical team gained a lot of experience and has a good knowledge of all existing prepress equipment, screening techniques and plate production tools. All new technologies are tested and evaluated by Athena Graphics. A few years ago, we conducted a benchmark evaluation of all existing flat top dot technologies. We began with tests of a technology, which creates the typical "oxygen free production" by laminating a film over the flexo plate before exposing. Early in 2013, we started up the production with Flint Group's nyloflex® NExT Exposure, which provided us with a number of advantages. In no time the amount of plates exposed with the nyloflex® NExT technology took an important part of our total plate production".
Advantages of printing plates exposed with the nyloflex® NExT technology
Quality comes first for Athena Graphics. "In our view the nyloflex® NExT technology applied on the new nyloflex® ACE printing plate is an optimal combination", comments Kristof Lobeau, Flexo Project Manager. "For prepress and ripping we use different microstructure technologies depending on the printing press, anilox roll, printing ink and substrate. They enhance the ink transfer of the printing plate. Solids have a better ink laydown and the density is significantly increased. Problems with pinholes - as often seen in solids in opaque white, belong to the past, and we obtain sharp linework without the halo effect. The reproduction of halftones and images can also be improved. The top of the dots produced with the NExT technology is flat and is not as sensitive to different impression settings as a digital round dot. This results in less dot size variations due to pressure variations between the plate and substrate. Several customers noticed that cloudiness effects or disturbing print strips in halftones, which are caused by printing vibrations or substrate unevenness, disappeared. These "flat top dot" benefits are used in the same way to reduce fluting in corrugated board printing".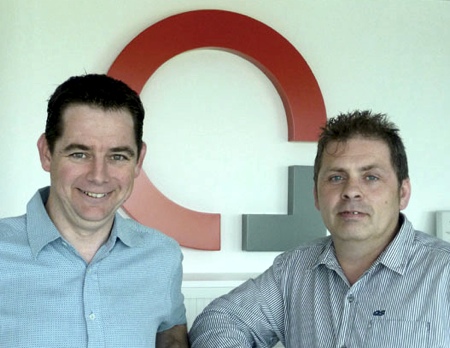 Kristof Lobeau, Flexo Project Manager, and Claude Corneillie, Flexo Product Manager at Athena Graphics, are convinced that they will achieve a quality of flexographic printing which will match gravure, in the near future.
nyloflex® NExT gives an answer to the market's requirements to reduce printing costs, but get the highest quality at the same time. "We are convinced that we will achieve a quality of flexographic printing which will match gravure, in the near future", further explains Kristof Lobeau. "Now it's possible to combine halftones, images, solids and barcodes on one printing plate – typical motifs we used to print with separate plates combined with different anilox rollers. This results in a reduced number of colour separations and therefore a significant cost saving with better quality. The shoulder angle of a dot produced with the NExT technology is more stable than a classic digital dot. This makes the print result more reliable with less tolerances even with very long print runs and when printing repeated jobs. Printers appreciate these printing plates very much, as they enable a constant production process – without cleaning stops and time lost. They also report that the start-up times could be considerably reduced".
The ink density will be improved, and there is a larger colour gamut in full colour printing. This results in brilliant images showing more detail and contrast. Thanks to the new technology, the number of spot colours can be reduced, the larger colour gamut allows to build up more specific Pantone colours in CMYK.
Improvement of productivity
Athena Graphics is delighted with the productivity, as there are no additional production steps for laminating the plate. The LED exposure is made on a separate exposure unit, and both engravers can be used full time for lasering the plates. "Yes, the best quality plates need time to be exposed on the nyloflex® NExT Exposure", states Claude Corneillie, Flexo Production Manager, "but there is no production bottle neck since the preparation work can be done much faster". And he summarises: "There is no single best solution for all printing presses, inks and substrates. The nyloflex® NExT Exposure exhibits several parameters, which bring specific benefits. The intensity of the LED's, the speed and number of passes can be controlled. The exposure is also equipped with classic UV tubes. By playing with the combination of both you can make the edge of the microstructures and dots sharper or softer".
To post a comment Log In or Become a Member, doing so is simple and free