Chinese Packaging Printers Opt for KBA Rapida
Monday, June 23, 2014
Third and fourth KBA Rapida 106 for Stora Enso Inpac in Guangdong
KBA delivered two medium-format Rapida 106s to Stora Enso Inpac in Gaobu Town, in the Chinese province of Guangdong, for the first time only two years ago. The company received a seven-colour press with coater and UV capabilities as well as a five-colour machine with coater for conventional inks and coatings.
Two further presses from this high-tech series recently left the KBA plant in Radebeul for Stora Enso Inpac. They are expected to be fired up in early autumn.
The two identically configured six-colour presses with coater and extended delivery are equipped with board-handling kits, automatic plate changing, ink-temperature control, combined CleanTronic washing units, VariDry IR/TA dryers in the delivery extension and delivery, ErgoTronicconsole with wallscreen, LogoTronic CIPLink X for transfer of preset data as well as many other automated features. They have a maximum output of 18,000sph.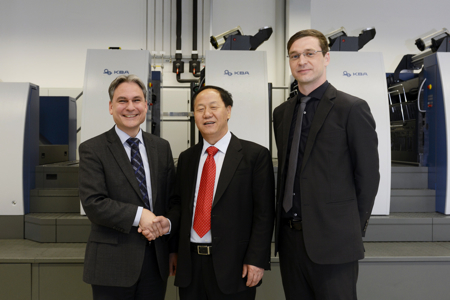 In the KBA customer centre in Radebeul: (l-r) KBA sales director Dietmar Heyduck, Guo Cai CEO of the Hebei Inpac Group and co-partner of Stora Enso Inpac as well as Andreas Hatzelmann from KBA sales (1)
In April Guo Cai, CEO of the Hebei Inpac Group and co-partner of Stora Enso Inpac, visited KBA in Radebeul to check out the latest developments in sheetfed offset. He is more than satisfied with his two existing Rapida 106 presses. The three UV interdeck dryers featured in his longer UV press can be inserted at four different docking stations depending on job. The press also features IR/TA and UV end-of-press drying. The company monitors print quality via DensiTronic Professional with densitometric and spectral colour control.