Rocket invests in new superwide format EFI Vutek GS5000r to aid further sector growth
Friday, June 20, 2014
Press release from the issuing company
Watford-based exhibition and event project management specialist Rocket has announced further invest in new equipment, with the addition of a new superwide format EFI Vutek GS5000r as it prepares for further growth in the exhibition, retail, event and interior market sectors.
The latest investment in additional new equipment follows the company's recent additional spend and establishment of a significant print industry first, when it became the first company in the UK to implement a Flow+ 2.0 wide-format business workflow system from print software developer, Caldera, earlier this year.
The installation of the versatile 5-metre wide roll to roll Vutek GS5000r UV printer will ensure the business can meet the growing demand for high quality giant format work. The Vutek GS5000r will also enable Rocket to extend the work that it produces for sites where 5 metre size installations are beneficial for logistics, installation and end appearances.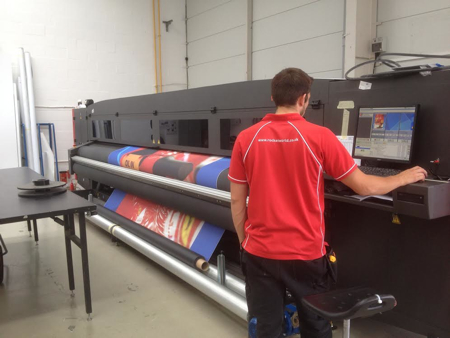 Through the new purchase, Rocket intends to enter a new era of superwide-format productivity, where it can combine speed and quality to produce single rolls up to 5m wide plus multiple rolls of 1.62m for added versatility. With reliable throughput being key, this new machine is able to produce colour accurate results on a huge range of flexible materials.
Rocket worked together with EFI's UK distributor, CMYUK Digital, to identify that the VUTEk GS5000r would be the ideal device to allow the company to expand effortlessly into the superwide-format market-place.
"We focus on our main strengths of production print and we need the right technology to achieve this. Although we include project management and installation where and when required, we prefer to leave creativity and strategy to our clients, and concentrate on what we do best," stated Antony Rider, Commercial Director at Rocket.
He continued, "Through our 'can do' work philosophy we produce a wide range of applications, often onto new materials, for leading sites such as Wimbledon, Silverstone, Twickenham and Farnborough Air Show, and we liaise closely with design teams to make sure that the visual brand reflects the right vision."
The Vutek GS5000r is capable of producing billboard outdoor material output at up to 288m² per hour, and can run multiple jobs at once through its new multi-queue functionality. It can also produce high definition Point of Purchase quality material at speeds up to 96m² per hour, and has an advanced three-layering white ink capability for high impact images.
Its flexible 3M premium UV ink enables printing on a wider range of substrates, and its multi-roll capability allows printing on up to three 152cm rolls simultaneously.
Rocket already has long-term relationship with EFI, running a duo of VUTEk QS3200 printers, and the company has grown much of its business around the flat-bed and roll-fed characteristics that these two UV-curable machines incorporate. However, because of the growth in demand for superwide-format applications, and the ability to reduce the numbers of seams and joins in very large jobs, the decision was made to purchase EFI's 5m VUTEk GS5000r. In addition, the multi-roll capabilities of the machine make it simple to print two and three applications simultaneously.
The company's impressive equipment roster includes two earlier installations of flat-bed and roll-fed models from VUTEk as well as its QS3200 machines, plus Mimaki JV5 and JV3 roll-to-roll units that are used for close-viewed graphics. For finishing its applications Rocket Graphics has a Zünd flat-bed cutting table, which benefits from a dedicated operator whose CNC experience enables a host of innovative tasks to be produced.
The mix of technologies now employed by Rocket Graphics broadens the types of work that can be produced in the longer term, with the new 5 metre wide VUTEk GS5000r now enabling the company to produce larger applications profitably with many now generated as a single piece.
"By adding an extra 2 metres in height when working with large graphics for events, exhibitions and retail can make an enormous difference in the way we produce a job," explains Rider.
"Reducing the number of joins in a piece of material not only results in a neater and more effective result but also simplifies the logistics for installers. Present day UV-curable inks are so good that we can print direct to meshes and thinner materials, too, knowing that we'll get the adhesion and durability that's required, he added."
Rocket specialises in working in partnership with its agency, end-user and trade sector clientele to provide large format branding and graphics solutions and brand implementation services for events, exhibitions, and the retail and interiors sectors, and has seen its turnover grow by 25% in 2013, year on year, with similar growth forecast for 2014.
Additional staff have also been added as the business has continued to grow, which includes two project managers and two salesmen. Junior personnel have also been recruited.
Rocket's work has included the production of event and exhibition display material for such illustrious events as last year's Champions League Final at Wembley Stadium, Mobile World Congress, Barcelona, Farnborough Airshow, Goodwood Festival of Speed, ATP Tennis Finals, PGA Wentworth, Twickenham Home Internationals and British Grand Prix, Silverstone, as well as major name clients such as BAE Systems, Unilever, HSBC, INTAS, Nikon and Nissan.
Potential areas for growth include Rocket's work in the sports branding sector, where it has significant experience within the field. Although a large part of Rocket's clientele is agency based, some 30% of its turnover comes from the project management and installation side, an area where it is also investing in both staff and training. It is also looking at moving into other new areas for future development and expansion.
Further investment is being planned in equipment and development throughout this year by Rocket, which will include an extension to its current business base expanding on our current 12500sq.ft. of workspace.
To post a comment Log In or Become a Member, doing so is simple and free