Calculated Design upgrades to Morgana DigiFold PRO with Sydney Stone
Wednesday, June 18, 2014
Press release from the issuing company
Calculated Design a Cambridge based print and solutions provider has upgraded from their DigiFold MK1 to the new Morgana DigiFold PRO. The decision was based on the enhancements in speed and setup with the newer model.
"The need to crease and fold our work has been apparent for some time, especially on heavier substrates the cracking was not something we were comfortable passing along to our customers" said Alan Brown, President of Calculated Design."We originally purchased the DigiFold MK1 and decided to upgrade to the new Morgana DigiFold PRO because the easier touch screen setup and 6000 sheet per hour operating speed will enhance the efficiency of our production."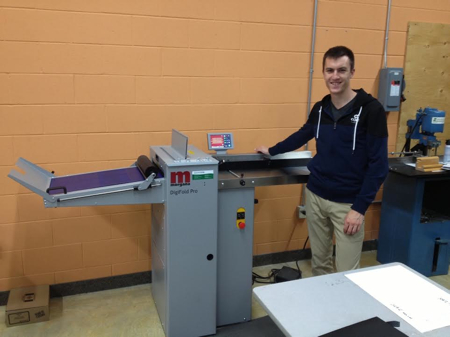 The DigiFold Pro is an automatic creasing / folding machine designed specifically for the professional digital or litho printer who has a need to crease and fold digitally printed, heavy weight or cross grained stock. The new smart screen setup enables a quick an easy setup even for those not to familiar with the system. Calculated purchased the optional Narrow Crease matrix in order to crease and fold text weight stocks which increasingly require creasing when folding.
"Calculated Design had the original DigiFold and was having success with it and using it on a regular basis for text weight stocks through to heavy card. The new model offers such enhancements in speed and operating efficiency we knew it would fit perfectly in his evolving digital focused business. As always we offered a fair trade for his Morgana DigiFold MK1 as this asset still has value in the market place which enabled them to trade up into the new model without as great a cost." Said Michael Steele Co-Owner of Sydney Stone
To post a comment Log In or Become a Member, doing so is simple and free