Onyx Graphics Extends its Color and RIP Expertise with ONYX Textile Edition Software
Tuesday, June 17, 2014
Press release from the issuing company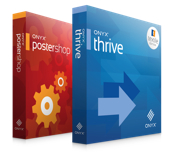 SALT LAKE CITY – Onyx Graphics, Inc. today announces the availability of a new addition to its award-winning suite of RIP and print workflow products. ONYX® Textile Edition software is designed specifically for the large format textile printing marketplace as an application specific edition for ONYX RIPCenter™, ONYX PosterShop® and ONYX ProductionHouse™ packages and as a module for ONYX Thrive™ software. ONYX Textile Edition software was previewed at the International Sign Expo in Orlando, FL, April 24-26, 2014 and at FESPA Digital in Munich, Germany, May 20-23, 2014.
ONYX Textile Edition software includes all the functionality of ONYX 11 software - such as Swatchbooks, sewing marks and disproportionate scaling - with the addition of textile specific features that can save time and reduce waste. A single, simple process streamlines job preparation and offers the ability to run an entire shop using one RIP or print workflow product. ONYX Textile Edition software combines Step-and-Repeat, Colorways and Ink Configuration Builder functions with ONYX Color – Onyx Graphics' proprietary color engine - to increase the predictability of color textile output.
"We understand that the right tools are critical in taking advantage of the rapidly expanding textile market," said Kevin Murphy, President of Onyx Graphics. "We've taken a vibrant, simple and smart approach to addressing the unique color challenges in digitally produced textiles."
Easily create multiple patterns using Step-and-Repeat function
Step-and-Repeat functionality within the ONYX Textile Edition simplifies pattern creation by building repeating patterns with fewer clicks. Users can achieve unlimited layout possibilities with vertical and horizontal repeats, rotate and mirror options and the ability to add image offsets. The ONYX Step-and-Repeat function means users can quickly create edge-to-edge fabric and wall covering designs from a single repeatable image, eliminating the need for third-party applications. Users can experience substantial time savings when creating full-bleed repeats for any size material or application.
Produce multiple color variations with Colorways function
The Colorways function enables users to quickly create patterns in multiple colors from a single file by selecting from a specified Swatchbooks color or manually selecting colors to produce unique patterns. Users can save valuable time because this simple, intuitive Colorways application eliminates the need to switch between multiple programs. The job setup function is achieved using the familiar ONYX interface.
Deliver Vivid Quality Output with ONYX Color and Ink Configuration Builder
Textile printing has some unique color challenges. Without the proper ink controls, colors can appear dull and less saturated. ONYX Color has been enhanced to overcome these color challenges. Onyx Graphics' proprietary color engine delivers an expanded color gamut that gives users the ability to match corporate colors, achieve deeper darks and print a wider range of colors. Available exclusively from ONYX, ChromaBoost™ technology allows users to achieve brighter, more saturated colors by increasing the chroma (the intensity of the color) by as much as 40 percent.
The Ink Configuration Builder enables the quick creation of ink configurations for alternate ink sets (e.g. specialty textile colors) supported by a user's print device. Specialty ink sets often come to market after a print device has been in service for awhile, and its driver software may no longer be updated. The Ink Configuration Builder allows users to easily create their own ink configurations to support these specialty ink sets. In addition, the innovative Output Ink Reference chart gives users visibility to which ink is in which channel so they can easily determine the order in which the ink will print. The reference chart and ink configuration features included in ONYX Textile Edition software let users accelerate printing by making changes to ink configurations during media set-up. Users gain control over ink and color to achieve predictable, vibrant results every time.
Availability
ONYX Textile Edition software is available now as an edition for ONYX RIPCenter, ONYX PosterShop and ONYX ProductionHouse packages and will be available on June 30, 2014 as a module for ONYX Thrive software. To purchase ONYX Textile Edition software, customers should contact their authorized ONYX reseller or visit www.onyxgfx.com for more information.
To post a comment Log In or Become a Member, doing so is simple and free