SoOPak Awarded "Most Innovative" at Top 50 Packaging Ideas Expo
Tuesday, June 17, 2014
Press release from the issuing company
Hundreds of enthusiastic visitors converge on Mississauga Convention Centre to see SoOPak's quick turnaround, high quality, and smaller run length cartons and packages
SoOPak, a new short-run offset printing North American packaging specialist, was awarded by visitors and its peers as the most innovative packaging idea at the Top 50 Packaging Ideas Expo held on June 5 at the Mississauga Convention Centre. SoOPak took part in the trade show as an exhibitor.
"We are honored and gratified to be chosen as the company with the best packaging innovation," says Carol Jiang, president of SoOPak. "I salute our fellow exhibitors who vied for this award with their own brilliant packaging ideas and concepts. In the end, the packaging market and print buyers are the ultimate winners because our ideas and new concepts will help them to bring more products to the market in a fast, affordable, fashionable, and eye-catching package."
Sponsored by SEW-Eurodrive, the Top 50 Packaging Ideas Expo was well-attended by hundreds of enthusiastic visitors and deemed a resounding success. Large enough to see a well-represented number of exhibitors but small enough to spend quality time face-to-face talking to representatives, the expo was alive with activity all day long with the din of exhibitors and visitors discussing leads and prospective business deals.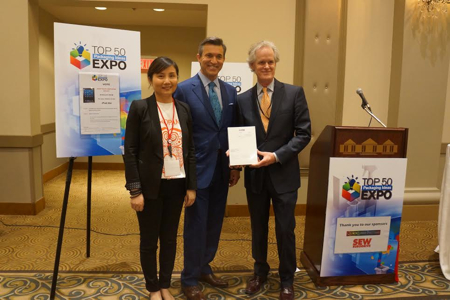 SoOpak was voted the most innovative company of the Top 50 Packaging Ideas Expo. (Left to right) SoOpak president Carol Jiang, event organizer Canadian Packaging magazine publisher Stephen Dean, and Peter Henderson of Ideovation, winner for choosing best innovative idea with his new Apple iPad Air prize.
"We were pleased to spend the day networking and lining up new business for SoOPak," says Jiang. "It's important for us to show how SoOPak sets itself far apart and above other packaging firms with our unique business model. No one else offers what we do---high-quality, cost-effective short-run printing for packaging customers with no die and plate costs for offset printing, and run lengths as low as 500 boxes with a quick turnaround. We are the first firm ever to put a folding carton business online for the speed and ease of our customers. After two years of research and concentrated effort, my team was able to unveil a new easy economical folding carton business on the internet. For anyone looking for a short-run, unique folding carton, SoOPak can deliver! We would like to thank the sponsors of this event for organizing a successful show. We really shook up the show and made a lot of positive noise."
SoOPak serves the carton packaging needs for a wide range of markets. These include the cosmetic, entertainment, food and confectionary, pharmaceutical, and personal care industries. SoOPak also produces high-quality, attention-grabbing promotional and point-of-sale materials. These items include portfolios, leader cards and tags, inserts, warps, boxes, and displays. To produce this variety of short-run packaging and promotional items, SoOPak has assembled high quality multi-color offset presses and a high level of system integration, including in-house prepress services, plate making, UV coating, embossing and windowing capabilities. Its well-thought-out system integration ensures a speedy, fast response to customer needs no matter if the customer is based domestically or overseas.
"Why was SoOPak chosen as the most innovative packaging idea," asks Jiang. "There are a number of reasons. Perhaps it is because we are constantly working to make our customer experience very positive. We've kept a customer-first mindset and dedication to using technological advances for an easy folding carton order purchase. For example, we have dedicated knowledgeable folding carton consultants for every customer's order. We're the first company with an online folding carton platform to make online ordering easy—providing instant quotes and live support from our product specialists. We bring value to each customer. We don't charge for plates and dies like all the rest. We offer the highest quality offset printing. With as little an order as 500 boxes, we provide our customers with a fast 10 day turnaround time."
To post a comment Log In or Become a Member, doing so is simple and free