Sonoco Alloyd Receives AmeriStar Packaging Award for Whirlpool Water EveryDrop Water Filter Package
Friday, June 06, 2014
Press release from the issuing company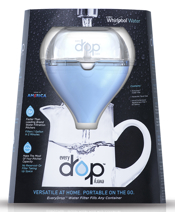 HARTSVILLE, S.C. - Sonoco Alloyd, part of Sonoco Display and Packaging, a unit of global packaging company Sonoco (NYSE:SON), has won an AmeriStar Packaging Award in the Household Products category from the Institute of Packaging Professionals (IOPP) for its Whirlpool® Water EveryDrop™ water filter package.
Jeff Christensen, vice president of Sonoco Alloyd, said, "The Whirlpool Water EveryDrop water filter is a new-to-the-market product, revolutionizing the convenience of on-the-go water filters. Whirlpool anticipated that the product would be handled frequently at the retail level because it is new. They required a package that was completely secure yet reclosable, allowing for inspection in the retail environment.
"We provided a custom, full-sized, two-piece clamshell featuring a four-button snap-together closing point and slide-on sleeve. This fully protects the product during shipping and in the retail environment, while allowing a full view of the product inside. The water droplet shape of the clamshell cavity positions the filter so the outer graphics clearly communicate what it is, how it works and the many ways to use this innovative product."
Sonoco Alloyd will accept the trophy at the AmeriStar and Visionary Awards reception, co-hosted by IOPP and UBM Canon Packaging Media Group, during EastPack 2014 in New York City on June 10, 2014.The Company will exhibit at EastPack in Booth #2907.
Sonoco Alloyd is a leading manufacturer and award-winning designer of high-visibility packaging and blister packaging machines for the retail and medical markets. For more information about Sonoco Alloyd's complete line of products, please visit our website at www.alloyd.com or contact customer service at (800) 756-7639.
To post a comment Log In or Become a Member, doing so is simple and free