Beauty of Letterpress achieves $30k goal to help save Hamilton Wood Type
Thursday, June 05, 2014
Press release from the issuing company
ALPHARETTA, GA - The goal: help save letterpress history— including 1.5 million pieces of vintage wood type at the Hamilton Wood Type & Printing Museum (woodtype.org) in Two Rivers Wisconsin. Today, Neenah Paper celebrates the first 12 months of The Beauty of Letterpress by presenting a $30,000 check to Hamilton Wood Type and Printing Museum. Fifteen thousand dollars were raised from the sale of letterpress prints with a matching $15,000 grant from Neenah.
"Our future appeared quite bleak only a year ago," said Jim Moran, Museum Director. "A possible new building, the move out of the old one and the means to do it were daunting to say the least," he said. "Partners were needed and quickly. When the call came from Neenah with the offer to help raise funds with matching support, we were stunned. It was a chance to take a breath and know we had a far better chance to make this work. The Museum's legacy could move forward."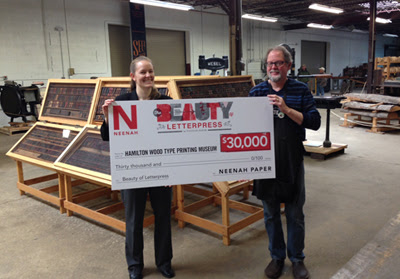 Moran indicated that the dollars will be used to protect and display the world's largest collection of type. "The practice of making type will be reborn as we start up the original pantograph machines and bring in the old cutters to extend the craft to new apprentice. As we archive and identify the many faces of Hamilton through printed pieces to digital fonts, the story of American printing and its practices will be seen in a new light," he said.
Last April, when Neenah launched The Beauty of Letterpress website as a virtual home for letterpress in the 21st century, it could not help but consider the plight of this landmark institution. Neenah vowed then to match every donation for limited edition prints up to $15,000 for a total contribution of $30,000.
Since then, thousands of limited edition prints have been printed by some of the country's leading letterpress printers, including Rohner Letterpress, Studio on Fire, Two Paperdolls and Mama's Sauce. Leading designers and studios, including Modern Dog, Design Army, and Mikey Burton, each interpreted "The Beauty of Letterpress." Many prints are still available for sale, and Neenah plans to launch three new limited edition prints this year. One hundred percent of the proceeds will continue to be donated to Hamilton in 2014.
Neenah attributes the success of the program to the passion of the letterpress-loving community. "Letterpress printers, designers and artisans from around the country contributed their time and talents to create the prints. We couldn't have raised the funds for Hamilton Wood Type without their generosity. We are so pleased to have contributed to sustaining this rich resource," said Tom Wright, director of advertising and design for Neenah Paper.
The Beauty of Letterpress is a website that celebrates letterpress printing and its creators with the first virtual, community-based gallery of modern letterpress samples and resources. Within just one year, Neenah has seen more than 200 letterpress printers join the community. In addition to featuring the best letterpress work being done today, The Beauty of Letterpress offers free paper samples of CRANE® Papers and Neenah papers, videos and many community resources. Letterpress printers, designers, lovers and aficionados are invited to submit work to The Beauty of Letterpress, subscribe to the RSS to see new work in real-time, and join its dedicated online communities on Facebook, Pinterest, and Twitter using @BoLetterPress.
The Beauty of Letterpress is a sister site to The Beauty of Engraving which was launched by Neenah Paper last year. Both initiatives were developed in partnership with Two Paperdolls and feature CRANE® Papers. CRANE'S LETTRA® Papers, CRANE'S CREST® Papers and CRANE'S BOND® Papers are marketed and sold by Neenah Paper.
To post a comment Log In or Become a Member, doing so is simple and free