Sonderen Packaging Enters 51st Year With New KBA Rapida 145 57-Inch Press
Thursday, June 05, 2014
Press release from the issuing company
Third-generation, family-owned business continues to re-invest for the future
KBA North America announces that Sonderen Packaging, a leading high-quality, custom packaging manufacturer located in Spokane, Washington, is continuing to invest in its business with a new KBA Rapida 145 57-inch press with a host of unique automated KBA technology including UV. Delivery is due in fall 2014.
"While our competitors are being bought out by private equity firms, we proudly remain an independent family-run business that continues to re-invest in modern automated equipment and produce high-quality packaging for our clients," says Matt Sonderen, a principal and director of quality management at Sonderen Packaging. "Our advantage over our competitors has always been our flexibility, our quick turnarounds on short- and long-run jobs on short notice, and our dedication to serving our clients. The new KBA press will allow us to keep this advantage and expand our portfolio."
The management team at Sonderen decided to replace an older non-KBA press with the new large format Rapida. Sonderen's new KBA press will be equipped with the latest technology including new, automation such as the KBA SIS Sensoric sidelay-free infeed, the CleanTronic UV system with a pivoting washing beam for washing of blankets and impression cylinders sequenced with plate changing, and additional parallel makeready processes that contribute to significantly higher net production output. Convenient operation is guaranteed at the new ErgoTronic console with wall screen, picture-in-picture function. Sonderen's press is also equipped with the KBA QualiTronic ColorControl inline color measurement and control camera system that monitors and maintains color consistency by taking a snapshot of every printed sheet.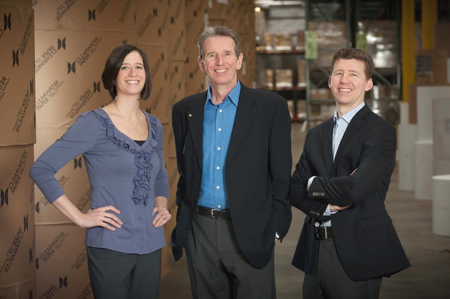 Left to right : Keva Sonderen, principal and director of marketing ; Mark Sonderen, president ; and Matt Sonderen, a principal and director of quality management, continue to invest in their business with a new KBA Rapida 145 57-inch press with a host of unique automated KBA technology including UV.
"Our new KBA press will also give us the added benefit of UV ink and coating technology that we have never possessed before within our facility," says Keva Sonderen, principal and director of marketing for Sonderen. "In the past, we sent those jobs out. Now we'll be able to utilize the UV by offering a wider range of coating effects in addition to streamlining the flow through our plant, resulting in improved lead times."
Sonderen's mix of clientele---from food manufacturers to sporting goods, ammunition to pharmaceutical, as well as confectionary and tea customers---will utilize the new KBA press's high speeds and ability to quickly print different short-run jobs. The trend toward short-run, fast turn jobs is being keenly felt by Sonderen, in which products need to be printed with lots of different SKUs. For example, says Matt Sonderen, its tea customers place print orders for different flavors and different quantities order-to-order, week-to-week. "The KBA press fits that type of work perfectly," he adds.
Sonderen's quest for a new press began during a four-day whirlwind trip to Germany to attend Drupa in 2012. While the team evaluated all of the 40-inch and large-format presses on the show floor, they were most impressed with the KBA Rapida 145 press running at 17,000 sph. It was the largest sheetfed offset press on display at Drupa and its unique features make it more efficient and enhance productivity for commercial and packaging printers worldwide. Logistics, timing, and financing, says Matt Sonderen, played a role in their choice of the Rapida.
"We performed a lot of due diligence and did our research," he recalls. "Ultimately, we were impressed with the quick changeovers on the KBA, which is key to our company's success. We were also impressed with KBA's reputation in the market, especially for its large-format models. We also checked out some very solid references from other printers who said KBA presses have exceptional reliability, and good uptime."
Established in 1963, Sonderen Packaging is a third-generation, family-owned and operated manufacturer of high quality, custom-packaging made primarily out of paperboard material. Its 135,000 sq ft modern facility in Spokane has 128 employees and custom manufactures a wide array of folding cartons for a diverse customer base. The company is a member of the Paperboard Packaging Council and Independent Carton Group. They have achieved G7 Master Qualification, and are direct food contact certified through the American Institute of Baking (AIB International).
To post a comment Log In or Become a Member, doing so is simple and free