Warren Board announces first winners of iPad Air prize playing card promotion with Stora Enso
Thursday, June 05, 2014
Press release from the issuing company
Warren Board Sales Ltd., the UK's leading independent cartonboard and graphical board stockist, has announced the first prize winners of its IPad Air playing card style promotion, run in collaboration with Stora Enso.
Customers have the chance of winning one of three 16GB iPad Air's, over a three-month period.
A record number of entries were received for the first two months of the campaign, which promoted the characteristics and qualities of Stora Enso's packaging and graphical board grade, Ensocoat and Chromocard, with the first winner being confirmed as Dave Webster, Purchasing Director of B&D Print Services.
Speaking about his fantastic prize win, he commented, "I have never entered one of Warren Board's competitions before as I hardly ever enter competitions." Dave added, "I was over the moon when I heard I had won. When I was asked if I was going to keep the prize for myself, or give it away; I didn't have to think very hard!"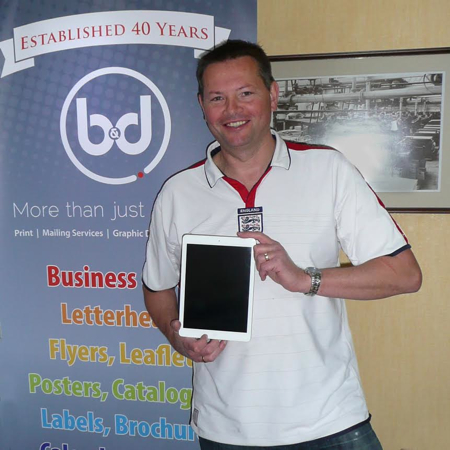 B&D Print Services Ltd is a commercial lithographic and digital printer based in the North West with a trading history of over 30 years. The company also provide mailing, graphic design and web design services and operate a 'real-time' on-line system for access to job progress with the ability to upload artwork and check proofs online. The company holds ISO 9001 and 14001 accreditations.
The second winner of the iPad Air was Paul Carden, Director and Joint Owner of KMD Company Ltd of Leicester.
Responding to news of his win, he stated, "I don't enter many competitions and this is the first time I have entered a Warren competition. I was really excited to hear I had won the Chromocard iPad Air and I have decided to give it to my wife. We've chosen the iPad with the smart black front and my wife is looking forward to seeing it."
Leicester based KMD has been producing high quality litho printed point of sale, packaging, presentation packs and children's learning products for over 35 years. The company are producers of bespoke solid board, micro-flute and litho-laminated B and E flute fold flat cartons.
Commenting on the announcement of the first winners of the prize-winning collaboration, and talking about the second competition board product, Robert Swallow, Sales Manager with Stora Enso Graphical Board, stated, "If you're looking for a graphical board with optimal strength and stiffness combined with a coated white reverse, Chromocard is a great option. Chromocard is suitable for almost any graphical end use, including brochures, calendars, greeting cards, covers, displays, folders, notepads and posters. Chromocard HB has high bulk and remarkable stiffness. Chromocard HB is suitable for all printing and finishing operations, offering excellent print quality and runnability at high speed."
Kieran Ferguson, Warren Board's Managing Director added, "We had a record number of entries for our Ensocoat and Chromocard iPad competitions and with such a fabulous prize up for grabs, it was probably no surprise that a lot of our customers wanted to try to get their hands on a 16GB iPad Air."
The prize-winning campaign was launched to promote the characteristics and qualities of Stora Enso's packaging and graphical board grades, Ensocoat, which was then closely followed by competitions promoting Chromocard HB (High-Bulk) and finally Tambrite H/S (hard-sized) with an iPad Air available to win in each of the respective months.
As part of the unique promotion, customers received a deck of 19 playing cards, together with a loose A5 playing card in an envelope, both of which have been personalised.
The carton holding the cards was printed on Ensocoat 275gsm, with six cards inside also printed bearing Warren Board's colourful mascot Starsky to demonstrate the ink hold-out of each product. Three of the playing cards were also reverse printed to illustrate the printability on both sides of Ensocoat, Tambrite H/S and Chromocard HB.
Stora Enso has been a long-term partner to Warren Board with the main focus being on their high-quality packaging grade, Tambrite. Following Warren Board's successful development of the commercial and graphical print market, their relationship has been further strengthened by the addition of both Chromocard and Ensocoat to its ranges.
With a 37 year trading history and operating from 100,000 square foot premises in Glenfield, Leicestershire, Warren (board and paper) employs a team of around 30 staff with a combined industry experience of over 300 years across its team. The newly formed Warren Converters operates from 42,000 square feet premises in West Bromwich and offers reel-to-sheet, re-winding and guillotining.
To post a comment Log In or Become a Member, doing so is simple and free