CMYUK appoints Michael Crook as Commercial Director to drive growing consumables business
Wednesday, June 04, 2014
Press release from the issuing company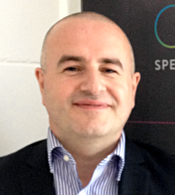 In line with its steady growth across all sectors of the wide-format market, specialist distributor CMYUK has announced the appointment of Michael Crook who joins as Commercial Director, Consumables Division. In this new role he will concentrate on the company's growing portfolio of materials across all sectors of digital production, promote customer relations and generate wider understanding of the importance of using the right media and consumables.
The timing of Crook's appointment is also key to the ongoing investment CMYUK is making in its online procurement system. His in-depth knowledge of supplier relationships and customer requirements will drive the company's philosophy of offering best-in-class materials at extremely competitive prices.
Crook joins CMYUK from Antalis where he was product manager of its Sign & Display division. His long and valuable experience in the consumables' sector goes back 17 years, and includes working in direct sales, product support and business development roles. Formerly with Robert Horne, and as a member of the Paperlinx digital solutions' team, his in-depth knowledge of materials and understanding of customer requirements are instrumental assets for CMYUK whose growth in the supply of materials complements its strong presence as the UK's authorised distributor of EFI VUTEk wide-format printers and Mimaki UV-curable products.
"Choosing the right materials is key to getting the best results, and this is a principle that applies across all ink formulations. We pride ourselves in helping our customers make the correct selection for the printer and the specific application," says CMYUK's Jon Price. "However, the demand for our consumables continues to grow exponentially. By appointing Michael, we can now extend our ability to provide excellent service across our expanding portfolio, and maintain customer relations efficiently and knowledgeably."
"Joining CMYUK gives me the opportunity of bringing my expertise to a growing company and taking on a new challenge," adds Crook. "I'm looking forward to playing a strategic role in the company's continuing growth, and helping to align the right products with the best technology so that end users can produce the optimum results."
As well as its distribution of EFI VUTEk and Mimaki printers, CMYUK is a specialist distributor for A Berger soft sign and textile fabrics for digital printing, SpiritTEX display profiles for textiles, and Zünd flat-bed cutting tables. The company also offers full colour management consultancy and trouble-shooting plus a range of useful service options.
To post a comment Log In or Become a Member, doing so is simple and free