Signature Flexible Packaging Operates New KBA Flexotecnica 10-Color Press With Stunning Results
Tuesday, June 03, 2014
Press release from the issuing company
Superior, gearless, sleeved, central impression flexo printing press installed in Los Angeles
KBA North America announces that a new Flexotecnica EvoXD 10-color press has gone into production at Signature Flexible Packaging, Inc., a leading Southern California manufacturer of flexible packaging since 1954. The new high-performance press was delivered January 2014 to Signature's facility outside of Los Angeles and became operational in early February.
"Since its installation, the press has been running extremely well," says Adrian Backer, president of Signature Flexible Packaging. "We've been printing commercial orders and the results are stunning. Print quality is superb and ease and speed of set-ups are amazing. Run speeds are double over those in our existing presses. We are printing thin-gauge plastic film (OPP, PET) mainly for the food industry for both new and existing customers. We've produced several jobs on the press that have happily surprised us in terms of its productivity. Flexotecnica is known world-wide for its superior, gearless, sleeved, central impression flexographic printing presses. We're pleased to be operating one of these fine presses in our facility."
The Flexotecnica EvoXD 10-color press at Signature features a raft of new technology. Meeting the challenge to speed turnaround time and reduce costs, Signature chose time-saving components like the Speedy Clean® automatic wash-up system and in-line viscosity control with InkSpec viscometers, auto-impression setting, and click-and-drag zero-waste registration along with numerous quality control options such as a 100% inspection camera and in-line color control.
"Our customers are designing increasingly sophisticated graphics," says Backer. "Our new Flexotecnica press will insure that we can consistently deliver beautifully printed flexible packaging in an economic and competitive manner especially with the assurance of the inspection camera and in-line color control systems. These are very important components for both our company and our customers."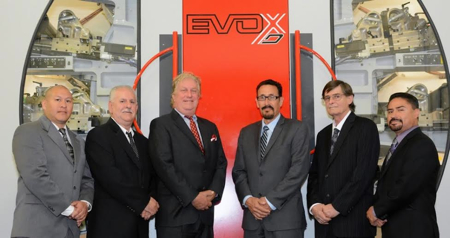 Left to right: The Signature Flexible Packaging team : Juan "Tito" Huitz, operations manager ; Jorge Valdez, prepress and graphics manager ; Jeff Sewell, vice-president sales and marketing ; Adrian Backer, president / CEO ; Dennis White, printing plant manager ; and Armando Lira, technical manager, are pleased to be operating the new Flexotecnica EvoXD 10-color press.
The new 10-color EvoXD press also incorporates the latest waste saving technology allowing Signature to become even more productive and competitive in the industry, according to Backer. "We chose to have this press configured with ten units for two reasons. First, we wanted to have the available decks to give us more options on difficult jobs. In addition, when running jobs of five colors or less back-to-back, it allows us to have the cylinders for the second job in press," he adds.
During a two-year process, Signature's management team visited press manufacturers and end-users before choosing Flexotecnica. "We were very impressed with the quality of Flexotecnica's machines; from the base frame and CI section to all the support systems," says Backer. "We've been quite pleased with our working relationship with both KBA North America and KBA-Flexotecnica. If I was to award them a grade, it would be an A. We received tremendous assistance from KBA North America's service department after the press was installed and running. The service department has become true partners with our company. Now that the press is operational, our main goal is to keep a steady production cycle of work. We are telling our clients and potential customers we are especially hungry for new business because this press has a voracious appetite! We'll be inviting both current and prospective customer to our facility to see the press in action. We believe wholeheartedly that this new press will help us to attract new business to our company and we'll post a successful return on investment."
Signature Flexible Packaging, a West Coast leader in flexible packaging since 1954, is a full-service flexible packaging converter that delivers virtually every flexible packaging solution and utilizes the latest technology. With two manufacturing facilities in the Los Angeles area, Signature has the capacity to support its customers with timely deliveries of high quality printed flexible packaging.
To post a comment Log In or Become a Member, doing so is simple and free