A powerful trio: KBA Rapida 105 and M80 folder from MBO
Tuesday, June 03, 2014
Press release from the issuing company
Expoprint Latin America, the most important graphic arts trade fair in South America, will open its doors from 16 to 22 July in the Transamérica Expo Centre in São Paulo.
Together with sales company Koenig & Bauer do Brasil, KBA and its cooperation partner MBO will be manning a stand in Hall C (Stand 66-C). Print experts from Brazil and neighbouring countries will be treated to live cutting-edge sheetfed offset printing on a Rapida 105 in connection with an M80 combi folding machine.
KBA Rapida 105 prints with drip-off effects
A six-colour version equipped with coater and extended delivery of the Rapida 105 with a sheet format of 740 x 1,050mm (29.1 x 41.5in) and a maximum output of 16,000sph will be on display printing high-quality posters. Some of the print samples will feature matt-gloss finishing effects based on the drip-off technique. The Rapida 105 on show will be furnished with an additional package for handling board and raised by 450mm (17.7in). It is based on the same technological platform as the Rapida 106 makeready champion. Key automation features include semi-automatic plate changers, CleanTronic Impact (combined blanket, impression cylinder and roller washing system with pre-dampened wash cloth) as well as a height-adjustable nonstop roller facility in the delivery. Further highlights comprise Drive Tronic feeder and inking units which can be uncoupled. The delivery and delivery extension are equipped withVariDry IR/TA dryers. Colour density is measured by ErgoTronic ColorDrive directly at the console. At the trade show KBA will also showcase innovative drying processes, such as HR- and LED-UV, as well as workflow solutions and MIS systems from Optimus.
Premiere of MBO M80 folding system in Brazil
The presentation of the M80 folder in Brazil is the next step in the global rollout of this innovative folding system for flexible finishing. A key feature of the M80 is its numerous modular add-ons which can be retrofitted years after the initial purchase. For example, there is the option of adding two further buckle plates to the existing four or to retrofit a patented slitter shaft cassette. The subsequent automation and conversion from a buckle folding machine to a combi folding version is also possible. 16-page signatures in A4 format will be produced live on the M80 at the trade fair.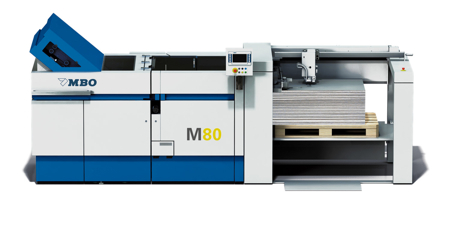 MBO subsidiary Herzog+Heymann will also unveil the new KL45 small folding unit in Brazil. The machine is available in defined configurations and can be delivered as 8.4, 6.4 and 6.6. Printers can choose between flat pile and round-pile feeders. At Expoprint a KL45 with round-pile feeder, 1st folder T8, 2nd folder T6 and vertical delivery will process 40g (25lbs) paper to package inserts for pharmaceutical products. Along with products for the pharmaceutical industry, a raft of special folding solutions for packaging and mailings form the core of Herzog+Heymann's business.
Koenig & Bauer do Brasil on growth curve
In September 2013 KBA opened its own sales and service subsidiary in Brazil operating under the name Koenig & Bauer do Brasil. The company which originated from former sales agency Deltagraf Representações Comerciais ltda. in São Paulo, Brazil, generated pleasing sales of KBA sheetfed and web presses in the past and expanded its customer service offerings further in the growth market Brazil. This KBA subsidiary is also a sales partner of MBO in Latin America's largest market. In the future Koenig & Bauer do Brasil aims to takeover service activities for KBA users in Argentina, Uruguay, Chile and Paraguay.
To post a comment Log In or Become a Member, doing so is simple and free