QuadTech announces new structure in Brazil for sales and technical suppor
Friday, May 30, 2014
Press release from the issuing company
Printers will benefit from the convenience of local currency, local language, and fast response from local technicians
Sussex, Wisconsin, USA – QuadTech, Inc., leading innovator of advanced color and inspection technology for the printing industry, has announced a new representation agreement with Caltronic in São Paulo. The new structure will provide fast access to technical service and spare parts for printers in the packaging, commercial, and newspaper markets. The move by QuadTech, along with the recent appointment of José Carlos Valverde as Sales Manager for Latin America, indicates an increasing presence for QuadTech in Brazil.
Ranjan Singh, QuadTech's International Service Manager, comments: "Because of Brazilian tax law, it is essential that our customers have the ability to pay a local office in Brazilian Reais, rather than U.S. dollars. This means that customers can avoid bank wire transfer and currency converting fees. With Caltronic in São Paulo we can deliver an immediate tax saving of up to 35%, local invoicing, and fast response in the local language. We look forward to offering more cost-efficient service to our Brazilian customers."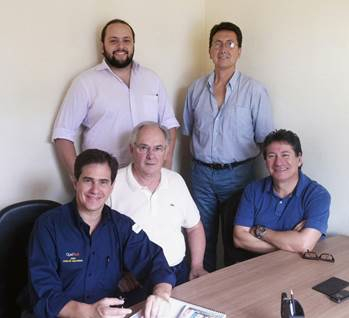 L-R, back row: Vitor Caldana, Danilo Vidal. L-R, front row: José Carlos Valverde, Wilson Caldana, Jorge Maldonado.
In addition to the currency and tax savings, QuadTech customers in Brazil will benefit from fast response times from experienced local technicians. According to QuadTech president, Karl Fritchen, "Our colleagues Vitor Caldana, Jorge Maldonado, and Danilo Vidal bring an extensive knowledge of the processes and issues confronted by printers every day. Even though this agreement may be new, the people serving our customers have been with us for 15 to 18 years, building an extensive knowledge of QuadTech systems."
Vitor Caldana, Caltronic's Service and Project Manager, comments: "We've had a long partnership with QuadTech, and the new agreement represents the mutual trust developed between our companies. We feel that this new agreement will benefit customers greatly, as they can count on a larger and very experienced team to help them with all of their needs—from sales to service."
Mr. Singh adds, "Experience is certainly valuable. And with the continued innovation and evolution of QuadTech technologies, we've established a recertification program to provide our technicians with training at our U.S. headquarters every two years. This ensures that our people are experienced, knowledgeable, and remain current on the latest technology, software updates and pressroom innovations."
To post a comment Log In or Become a Member, doing so is simple and free