New Book Promotes Power of Visual Communications
Friday, May 30, 2014
Press release from the issuing company
Signs Sell will be available nationwide June 2014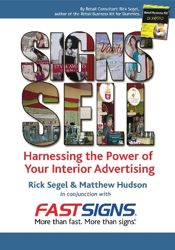 DALLAS - Best-selling authors Rick Segel & Associates (RSA) announced today that its latest book, Signs Sell: Harnessing the Power of Interior Advertising, will be in stores and available online in June 2014.
"We believe that signage is the most misunderstood and underutilized tool in all of retailing today," said Rick Segel, co-author of the book. "Using our 'Dummies' approach, we created a guide to help retailers and businesses understand the power of signage and visual graphics enhancing the customer experience and increasing retail sales. This is not a text book, but instead a step-by-step guide to help business owners and marketers learn more about the power of signage."
Signs Sell is a full-color 192 page guide that helps the reader learn about different types and categories of signs and what they can do for the business, as well as learn the mechanics of creating and placing a great sign. It looks at visual graphics not only from the customers' point of view, but also from the employees.
Another exciting part of this book is the relationship with FASTSIGNS International, Inc., "When we decided we wanted to write the definitive book on signage, we knew we needed to work with an expert, and we found that in the FASTSIGNS team. The contributions FASTSIGNS International, Inc. has made to the book are invaluable and we are so grateful to them for their input and support," shared co-author Matthew Hudson.
In addition to being available on amazon.com and in bookstores, Signs Sell will be sold on the FASTSIGNS website and will be promoted by local FASTSIGNS® franchisees. "As a leader in the visual communications industry, and with the retail industry being an important one to us, we are thrilled to be involved in this project," said Catherine Monson, CEO of FASTSIGNS International, Inc. "Rick and Matt's extensive retail and small business expertise is evident in Signs Sell.
"This was the perfect working relationship," said Rick Segel. "Matt and I wanted a sponsor forSigns Sell but with FASTSIGNS International, Inc., we got so much more. Signs Sell is a better product thanks to their contributions. We are thrilled!"
Rick Segel and Matthew Hudson are the authors of 19 books, including two editions of the best-selling Retail Business Kit for Dummies which has sold over 1 million copies and has been translated into seven languages. Their expertise has made them among the most popular speakers in retail. Their much-anticipated book, Signs Sell, is available for pre-order now and will be in stores June 2014.
To post a comment Log In or Become a Member, doing so is simple and free