POLAR very satisfied with PACE Days 2014
Thursday, May 22, 2014
Press release from the issuing company
A total of 185 visitors used the opportunity of the PACE Days to get the latest information about automating options in cutting. From May 12 – 16, the Customer Center in Hofheim was marked by the optimization of the cutting process.
The visitors were very impressed by the technical solutions on display. Customized demonstrations for interested clients showed the options POLAR is offering in the field of automated cutting. "Besides triggering off many new projects, we also signed sales contracts for some machines right here", says Markus Judel who is very satisfied with the results.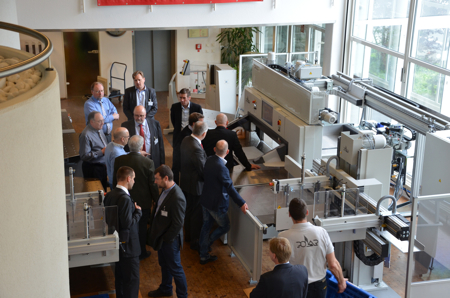 The highlight: POLAR EasyLoad
The highlight at the PACE Days was at the same time a real global innovation: POLAR Loading aid EasyLoad 7S. This product bridges the gap between manual and automatic jogging up to a format of 126 x 164. A gripper system does the loading of the automatic jogger and relieves the operator's workload. The decisive point is that the operator controls the entire process and thus also the quality of the cutting ream. For many printing houses, EasyLoad is therefore a very interesting option, especially since it guarantees ergonomically correct working and, compared to automatic jogging, the investment costs are much lower.
CuttingSystem PACE
POLAR's PACE CuttingSystems represent automated cutting. PACE is an abbreviation of POLAR Automation for Cutting Efficiency. With Autoturn turning gripper and Autotrim high-speed cutter as the centerpieces up to 5 cuts can be performed automatically. Meanwhile the operator can prepare the next cutting ream. This helps to enhance productivity and/or save personnel.
PACE mini: Three-side trimmer BC 330
With its BC 330 three-side trimmer POLAR offers also a machine for automatically cutting perfect-bound products. The device is of special interest for customers who occasionally manufacture perfect-bound products and wish to manually cut them to the required format on the cutting machine. With BC 330 one operator can do the binding and cutting in parallel, without blocking the cutting machine.
To post a comment Log In or Become a Member, doing so is simple and free