KBA Takes the Lead Introducing Sheetfed LED-UV Technology
Thursday, May 15, 2014
Press release from the issuing company
Newest drying technology provides significant advancements, benefits, and savings
KBA North America is taking the lead with LED-UV curing, an exciting low-energy drying technology that is one of the hottest topics among commercial and packaging printers. KBA's research and development team in Germany, along with its curing systems manufacturing and ink partners, has successfully integrated this instant cure-to-print technology as a modular, interchangeable LED-UV curing platform into its press line and is able to offer highly knowledgeable assistance to its current and prospective customers to immediately capitalize on LED-UV's many advantages and benefits. CalledVariDry LED-UV the system's significant advantages include:
Very low energy costs to power LED-UV; a savings up to 50% in power consumption and energy costs versus conventional UV dryers.
No heat on the printed sheet thus eliminating distortion of plastic substrates
No spray powders or other chemicals
Yields more than 15 times the lifespan of conventional lamps
Flexibility to easily move LED-UV lamps interchangeably on press depending on job printing applications
Inks can be cured at up to 340% total coverage at standard densities
All stock types can be utilized including gloss and matte coated papers, uncoated offset papers, paperboard for packaging, non-porous synthetic papers, foil-laminated sheets, and plastics such as lenticular as well as most plastic packaging, card and label stocks.
Environmental and safety benefits; UV, HUV, HR-UV or LE UV all rely on mercury lamps; LED eliminates the risk of mercury or ozone contamination and is 100% compliant with future bans on mercury for human safety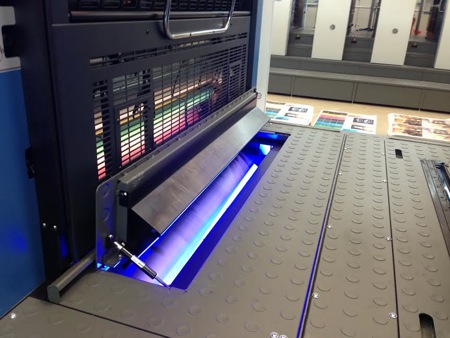 "We are the only large-format press manufacturer that can offer LED hybrid presses using both traditional UV and LED-UV processes," says Chris Travis, KBA director of technology. "At Drupa 2012, we demonstrated LED-UV drying on a Rapida 106 41-inch press—the first and only press manufacturer to do so. Today, we can offer LED-UV presses on all formats with or without traditional UV capability. We also offer traditional UV presses that are LED-UV-ready. This means that when a printer wants to switch to LED or complement a traditional UV press, it can be easily accomplished with a few modifications since all KBA UV presses are LED-UV ready. This provides our customers with maximum flexibility and future-proofs their investment. The KBA VariLED™ LED-UV system is fully integrated into the press and can be actuated according to the print format. In the future, when running a short sheet the light-emitting diodes will turn off outside of the sheet."
"We see the immediate future of energy curable presses to be a combination of LED-UV and traditional UV," remarks Travis. "For example, LED-UV offers a big advantage within the printing units while we will continue to utilize the benefits of traditional UV in the end-of-press dryer to cure coatings. At the Print UV Conference in early March 2014, we had many notable discussions about our technology with interested printers. KBA is at the forefront in this rapidly accelerating transition to LED UV drying as this new technology gains fast acceptance."
In summer 2014, KBA will be offering live demonstrations of the new VariDry LED-UV curing technology at its customer center in Radebeul, Germany on presses ranging from Rapida 75, 105, 106 and thereafter on the145, and is preparing to announce significant LED successes around the world.
To post a comment Log In or Become a Member, doing so is simple and free