Tom Ingalls selects LABZEUS Portfolio Kit as PaperSpecs Gallery Take Note Award Winner for Q1
Wednesday, May 14, 2014
Press release from the issuing company
Multiple printing techniques and a touch of digital media mix expertly to create a personal, coherent brand story for our award-winning designer – Brian Neumann.
Palo Alto, California – "The notion of combining the concepts of a portfolio and a kit should give you the immediate impression that this designer is all about taking risks for the right reasons," says Tom Ingalls, founder and creative director of Ingalls Design (San Francisco). "It's thoughtful experimentation that achieves a worthy goal."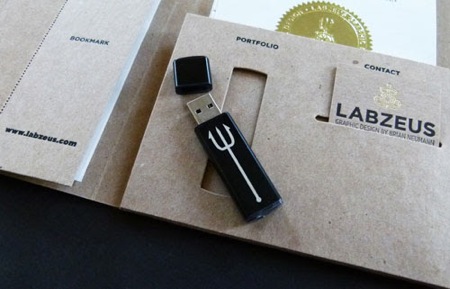 The designer in question is Brian Neumann, winner of PaperSpecs Gallery's Take Note award for Quarter One 2014.
Neumann integrated the preciousness of a one-off portfolio with the practicality of a direct mail piece when he created his award-winning self-promotion piece – the LABZEUS Portfolio Kit.
"Brian skillfully mixes a host of print techniques with a touch of the multi-media to tell his personal brand story," agrees Sabine Lenz, founder of PaperSpecs.com. "The result is a very unique sales tool that has brought him recognition early in his design career."
Using embossing, letterpress printing, giclée printing, diecutting, perfing, map folding, and an etched flash drive, Neumann's self-promotional mailer provides a concrete example of his abilities to fuse creative experimentation with rational intent to achieve a memorable solution.
To read more about how Neumann created his LABZEUS Portfolio Kit, please visithttp://www.paperspecs.com/labzeus-amazing-work-of-alter-ego/.
To watch a video about this winning project, please visit http://www.paperspecs.com/gallery-labzeus-portfolio-kit/.
To post a comment Log In or Become a Member, doing so is simple and free