FiberMark Introduces a Luxurious Product Portfolio for Upscale Health & Beauty Packaging
Thursday, May 08, 2014
West Springfield, MA – FiberMark, a global leader in manufacturing innovative paperboards, fiber-based specialty covering materials and print media for world-leading brands, announces an innovative new portfolio of folding carton, turned-edge and bag stock products specifically engineered to meet the design demands of the upscale health & beauty packaging market.
The dramatic visual and tactile appeal of FiberMark packaging materials draws attention to products in the retail environment and significantly drives sales---a must for upscale brands. With thousands of texture, finish and color combinations (including duplex options), FiberMark's substrates are enhanced by the deep, rich color saturation of the products throughout the sheet, eliminating glaring white edges and ensuring color consistency from lot to lot.

"Color is often an integral part of brand identity. With today's international supply chains and multi-site manufacturing, maintaining color consistency from site-to-site can often be a challenge for the folding carton packaging printer and converter," notes Dr. Robert Conforti, Senior Vice-President, New Business Development. "Manufactured using precision color control processes, FiberMark's dyed-through premium packaging provides the solution to these technical challenges."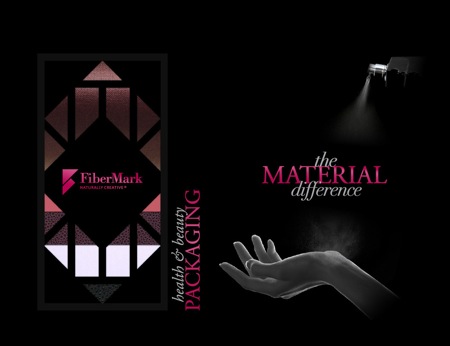 FiberMark's packaging materials also offer superior decoration and performance characteristics for printers and converters, with custom sheet sizes available to help maximize yield per sheet, and rigid paperboards that are available in a wide variety of calipers, making it possible to eliminate liners. These premium boards and luxury covering materials are strong and durable while providing a stylish, refined alternative to white SBS.
"FiberMark is dedicated to providing designers with an extensive array of premium packaging and luxury covering materials that reflect and enhance the value of high-end brands," said Dr. Conforti. "We are pleased to introduce this new collection of decorative paperboards, bag stocks and covering materials that bring sophisticated visual appeal coupled with superior performance to upscale health and beauty brands."
During the week of May 12th, FiberMark will be displaying its products and expertise at booth A26, Luxepack NY and at the DieLine Packaging Conference in Boston.
To request a sample of this radiant Health & Beauty Packaging collection and learn more about FiberMark's complete portfolio of solutions for custom high-end brand packaging visit www.fibermark.com/packaging/health-beauty.