duomedia and Essential join forces across Europe
Wednesday, May 07, 2014
Press release from the issuing company
Combining multilingual PR & marketing strengths across B2B technology markets
Brussels, Belgium- duomedia, a leading pan-European B2B content PR agency based in Brussels, Belgium, is pleased to announce a partnership with UK technology PR and marketing agency Essential Communications, based near London. This cooperation gives both agencies a stronger geographic reach and increased resources enhancing their positions within the B2B technology sector.
"From our central office in Brussels we support our clients with international Content PR and media campaigns. There are many interesting opportunities in the UK IT market that we are eager to tap into. Essential has over a decade of experience working with technology companies helping them to raise their profile in the UK market. In addition to specific technology expertise of the mobile computing, data capture and networking and security sectors, Essential also has a deep knowledge of the IT channel," says Lutt Willems, Director Client Relations at duomedia.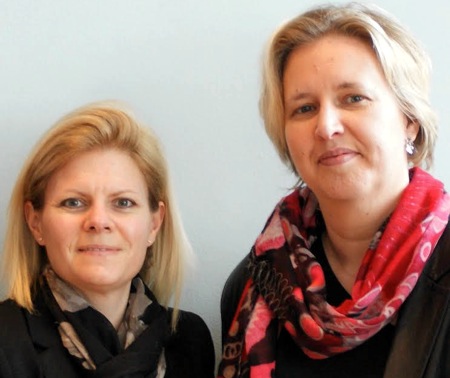 Managing Directors Sam Rudland of Essential Communications (left) with Anja D'Hondt of duomedia (right).
Sam Rudland, Managing Director of Essential Communications adds: "A number of our clients were looking to increase their European PR activities and we felt it was the perfect time to find an established and reputable B2B tech PR agency to partner with to further strengthen our team. It was important for us to find an agency situated on the continent with a team of locally based, experienced native language PR professionals with whom we could have a reciprocal agreement. duomedia ticked all of these boxes."
Both Sam and Lutt are heading their respective account teams in a successful cooperation supporting duomedia and Essential clients - on a UK and European basis.
Powerful alliance across Europe
Both agencies' value propositions aim at building client reputations and market presence through an integrated multichannel approach. This includes a messaging and content strategy addressing targeted markets through multiple channels. Strong stories and content alongside engagement from stakeholders are driving forces in today's communication. Third party validation and ambassadorship through customers and industry experts give more credibility to the market.
"At Essential we pride ourselves on going the extra mile for our clients and duomedia shares this same ethos. Additionally, our agencies both have a very similar vision and approach, which is key to ensuring we continue to deliver highly integrated, international media campaigns that meet our clients' objectives. I am delighted to have found such a similar agency to partner with and look forward to working together with duomedia both on existing and new clients and to growing out business together." Rudland continues.
"Both our agencies are showing a strong engagement towards the industries we are active in. I have full confidence our alliance will make us stronger together, and bring more value to our clients. Our team looks forward to a successful and long cooperation." concludes Anja D'Hondt, Managing Director of duomedia.
To post a comment Log In or Become a Member, doing so is simple and free