Popular Folding Carton Boot Camp Wraps Up Spring Workshop
Tuesday, May 06, 2014
Press release from the issuing company
SPRINGFIELD, MA - From April 29-30, 2014, the Paperboard Packaging Council (PPC) hosted its popular Folding Carton Boot Camp at PPC headquarters in Springfield, MA, attended by 35 students and instructors from across the United States.
In the workshop, experts in the folding carton industry described the packaging production process, starting with how paperboard is made, the basics of inks and coatings, prepress, CAD, layout, graphics, presses, tooling, embossing, stamping, stripping, finishing, gluing, windowing, automatic packaging equipment, and finished with an overview of rigid boxes.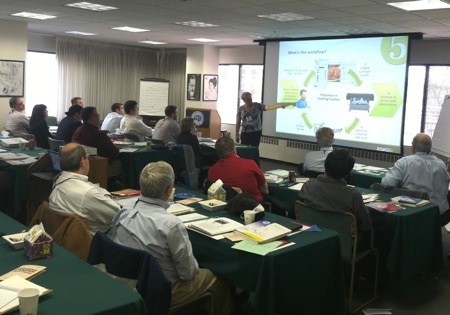 To honor the completion of the two-day course, participants are each awarded a certificate of achievement and are sent home with a copy of the Ideas and Innovation Handbook, a comprehensive carton design manual to use over the coming years.
"This year, students asked a lot of insightful questions and clearly gleaned a great deal of useful information from our group of industry experts," said Ben Markens, President of PPC. "I was also impressed by the amount of best practices shared. I expect that each student returned home with a greater understanding of the industry in which they work—as well as added a few new colleagues to their network."
The next Folding Carton Boot Camp is scheduled for December 9-10, 2014 and non-members are welcome to attend. Visit www.paperbox.org/bootcamp for more info.
To post a comment Log In or Become a Member, doing so is simple and free