Enfocus Chooses The Intermarket Group to Distribute PitStop, Connect, and Switch Product Lines in Several Central and South American Countries
Thursday, May 01, 2014
Press release from the issuing company
Gent, Belgium and Miami, USA – A distribution agreement between Enfocus and The Intermarket Group will help to satisfy pent-up demand for Enfocus PitStop, Connect, and Switch, the world's leading PDF quality control and workflow automation solutions, in Central America, Peru and Ecuador. The agreement was signed at last month's Graphics of the Americas conference and tradeshow in Miami.
Intermarket, an Inc. 500 award-winning distribution organization headquartered in Miami, has long-standing relationships with graphic arts production companies served by its network across the Caribbean, Central and South America. Intermarket maintains customer sales, support and service with over two dozen technicians and sales personnel throughout the region.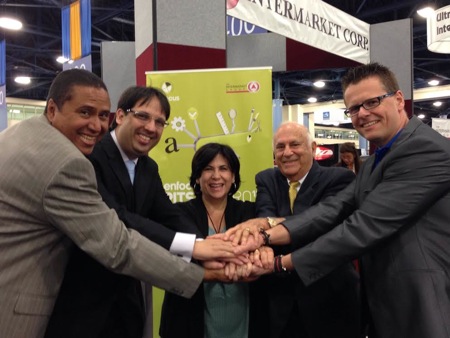 Says Intermarket president Patty Alvarez, "PitStop has been on the Caribbean, Central and South America's wish list for a long time. The reason my team is also interested in the Connect and Switch products is that they are an easy fit for both our existing markets and new ones, as well."
With Intermarket already well-established in the commercial and packaging production sectors, Alvarez says that Enfocus Connect will allow the Intermarket network to directly help designers and ad agencies enjoy easier file exchange with printers, and with little to no capital outlay required on their part.
"The workflow aspect of prepress is something we already handle, and affordability is important," Alvarez continues. "When they saw Switch in action, my technical salespeople flagged the executive team to pay attention. They said that Switch might be the most powerful workflow solution we've seen, and that its cost and ease of integration with third-party products makes it a smart way for customers to turn existing equipment and software into a state-of-the-art, cutting-edge, competitive solution for an attractive price.
"That sealed the deal for me."
Enfocus Vice President Fabian Prudhomme has equal praise for The Intermarket Group: "The Intermarket Group exemplifies the type of company we like to do business with," Prudhomme says. "Patty and her team have figured out how to combine the best qualities of well run corporations with the kind of strong ethics and care for employees and partners that you find in the best family-run businesses.
"The fact that The Intermarket Group covers the major regions of the Caribbean, Central and South America is Enfocus' good fortune. With a sizeable and highly knowledgeable sales and support group under Patty's direction, we know that our customers are in good hands."
Alvarez says that Intermarket is already in its next growth phase, with the expansion of the Intermarket team with their feet on the ground throughout the Caribbean, Central and South America. "Now we're looking to expand with the right partners and integrators, such as Enfocus," she says. "The Enfocus software portfolio is top quality, proven at over 130,000 locations around the world. It is a strong, respected brand that we are proud to be associated with."
The Intermarket Group will show the Enfocus product line extensively, in one on one sales visits as well as graphic arts schools, webinars and next year's Graphics of the Americas Exhibition and Conference.
To post a comment Log In or Become a Member, doing so is simple and free