10 years of success for Q.I. Press Controls India
Wednesday, April 30, 2014
Press release from the issuing company
Oosterhout – In April 2014 Q.I. Press Controls India celebrates its 10 year anniversary. During these ten years Q.I. Press Controls India has established itself as an esteemed supplier to the Indian newspaper and magazine printing industry with an impressive and extensive client base. The basis of the success has been the philosophy of being a partner to her customers in offering specific automated solutions to optimise their production process with the main goal of decreasing the use of materials and increasing quality and efficiency.
Impressive voyage
Q.I. Press Controls India was established on 28th April 2004 as wholly own subsidiary of Q.I. Press Controls – The Netherlands. Under the leadership of Mr. Vijay Pandya (M.D.) Q.I. Press Controls India quickly gained the attention and trust of Indian printers with its high quality products and friendly services. Though started as sales office, Q.I. Press Controls India expanded her activities to a full fledge sales, support and manufacturing organization in 2007. Also a software development unit was set up to support both the parent company as well as its direct customers. It was the vision of Mr. Menno Jansen, Chairman of Q.I. Press Controls to ensure total customer satisfaction. This is achieved by having a fully trained team of highly skilled technical staff led by Mr. Rakesh Dave (G.M. Technical). To offer Indian web offset printers high quality, innovative, closed loop solutions that automate the manual printing process at reasonable cost, Q.I. Press Controls India successfully adapted its technology to match the requirements of Indian printers, manufacturers and printing environment: this with 1000+ installations on various Indian and imported presses to proof its success.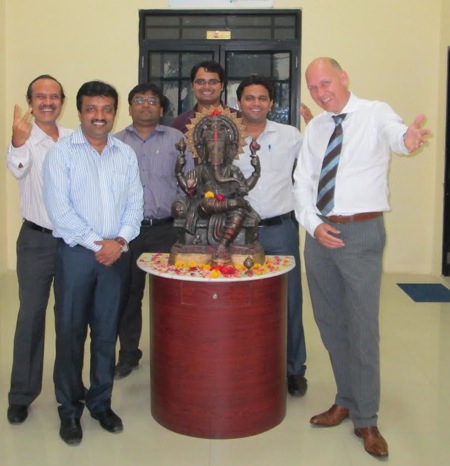 Triumph in Indian web offset industry
Q.I. Press Controls India is considered a reliable and proven supplier. With their presence in almost all leading newspaper and commercial printing companies Q.I. Press Controls India is proud of her success. "We want to dedicate this success to our esteemed customers who have put their trust in our company and let us be their partner in business. We also thank all Indian press manufacturers for their cooperation", says Mr. Jansen. Mr. Pandya completes: 'We take this opportunity to assure our (potential) customers and the Indian printing industry in general that we will continue with our efforts to provide products and services that will contribute to a cost efficient and qualitative printing processes".
Future developments
As a part of its global strategy, Q.I. Press Controls has plans to enlarge the production activities of Q.I. Press Controls India. With its world class assembling and testing facilities, Q.I. Press Controls India is ready to manufacture more products. "With its experienced and skilled technical team, Q.I. Press Controls India has always been and always will be a very important link in Q.I. Press Controls' chain", concludes Mr. Jansen.
To post a comment Log In or Become a Member, doing so is simple and free