Metallic UV-curable ink makes its debut in new AEG combination wide-format printers
Tuesday, April 29, 2014
Press release from the issuing company
The AEG Voyager Pro offers advanced print-head technology and versatile ink options at a modest investment price
Making its international debut at Sign & Digital UK is the first in the new series of AEG wide-format UV-curable printers, manufactured in the EU and distributed in the UK by specialist wide-format reseller Atlantic Tech Services. Unlike other present-day devices using this ink technology, the attractively priced Voyager Pro includes a metallic ink channel among its versatile configuration options. This is believed to be the first time that this ink formulation has been made available in a commercially available UV-curable printer.
Incorporating Xaar's latest print-head technology, the 2.05m Voyager Pro 2050 is the first in a series of AEG combination flat-bed and roll-fed wide-format printers, and is being demonstrated for the first time at Sign & Digital UK. Complemented by the 3.2m Voyager Pro 3200, two entry-level Voyager models are also on offer, with 1.65m and 2.2m hybrid options.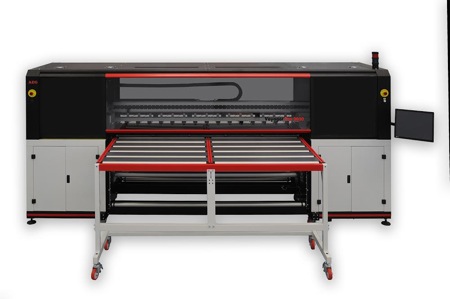 The recently announced Xaar 1002 print-head is designed and configured for specialist and industrial applications. It has been chosen for the AEG Voyager Pro wide-format printers based on its drop placement accuracy and ability to generate uniform drop volumes, even with the most demanding of fluids, such as metallic ink formulations.
Designed to be a true combination system, offering robust flat-bed and roll-fed throughput, the real versatility of the AEG Voyager Pro UV-curable series lies in the ink options that are available and configurable according to user requirement. The base ink-set of CMYK can be enhanced with a light cyan and light magenta, with the option of channels for white and metallic, plus the addition of clear varnish if required. Additionally, orange and green or violet and red can be integrated for users who require these alternatives as part of their work-flow preferences, colour accuracy criteria and final output requirements. All revisions to enhance original ink-sets or increase the number of installed ink channels are designed to be fully field-upgradeable at the customer site for convenience, with minimal down-time during change-over.
The addition of metallic, as well as white, special shades and a clear option is regarded as being particularly beneficial to print companies and display producers who want to add special effects and spot areas to an application. The AEG Voyager Pro will also appeal to packaging specialists and label converters who want to produce concepts and prototypes using a wide-format UV-curable machine that can generate proofs and short-runs onto the final material.
In conjunction with the Pantone Metallic Library, more than 300 matched colours are available to enable designers and print houses to generate metallic and pearlescent finishes as part of their work-flow. This extends the range of options available to users of UV-curable wide-format printers who, until now, have not had the option to generate metallic effects and finishes onto standard rigid and flexible materials.
The AEG Voyager Pro model being demonstrated at Sign & Digital UK has a maximum print width of 2.05m, and can work flawlessly with flexible materials and rigid sheets up to 5.08cm thick at speeds of up to 70 square meters per hour and output resolutions of up to 720 x 2880. The printer incorporates the latest Xaar 1002 print-heads which feature Xaar's TF Technology combined with the Hybrid Side-Shooter architecture, the industry's only true ink recirculation system, to ensure optimum production uptime. The variable droplet size of 0 to 18 picolitres has four levels of greyscale to suit all types of application, accommodating very fine gradients and crisp solid colours.
"We are delighted that AEG, a brand known globally for the quality of its engineering, is the first company to choose the all new Xaar 1002 print-head to ensure that its debut wide-format printer delivers the highest level of reliability and flexibility," says Mark Alexander, Director of Marketing, Xaar. "AEG has selected the world's most innovative print-head, with technology proven for complex fluids in the industrial single-pass environment, for this innovative multi-pass wide-format printer."
"Compared with existing wide-format UV-curable printers available, the AEG series of machines offers a new level of versatility with the ink choices that are available. The price point of this new series will appeal to all sizes of print business, from those who are just starting out in wide-format printing, to those who want an additional machine for specific applications that incorporate special and metallic colours," states Keith Pratt, Director of Atlantic Tech Services. "To date there are no alternative engines that provide such a generous range of colour options, and the inclusion of a metallic ink with this chemistry in a UV-curable machine is unprecedented."
As UK sole distributor for the new series of AEG wide-format printers, Atlantic Tech Services provides nationwide support and service for printers and related equipment. The company will also be supplying a comprehensive range of AEG media and mild solvent-based aftermarket inks.
To post a comment Log In or Become a Member, doing so is simple and free