Alliance Franchise Brands CEO Mike Marcantonio Name EY Entrepreneur of the Year Finalist
Monday, April 28, 2014
Press release from the issuing company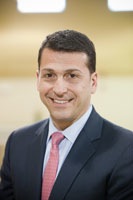 PLYMOUTH, Mich. - EY recently announced that Alliance Franchise Brands CEO Mike Marcantonio is a finalist for the EY Entrepreneur of the Year™ 2014 Award in the Michigan and Northwest Ohio Region. The awards program recognizes entrepreneurs who demonstrate excellence and extraordinary success in such areas as innovation, financial performance and personal commitment to their businesses and communities. Marcantonio was selected as a finalist from more than 50 nominations by a panel of independent judges. Award winners will be announced at a special gala event on June 5 at the MGM Grand Detroit.
"It's an honor and a privilege to be a considered for this award," said Marcantonio. "As the parent company of franchisors Allegra Network LLC and Sign & Graphics Operations LLC, Alliance Franchise Brands is proud to represent more than 600 independently owned and operated franchises in North America and the United Kingdom who provide national regional and local businesses and organizations with a one-stop resource for technologically advanced and strategically sound solutions for their graphics communications needs."
Now in its 28th year, the EY awards program has expanded to recognize business leaders in more than 145 cities in more than 60 countries throughout the world.
Regional award winners are eligible for consideration for the EY Entrepreneur of the Year National program. Award winners in several national categories, as well as the EY Entrepreneur of the Year National Overall Award winner, will be announced at the annual awards gala in Palm Springs, Calif., on Nov.15. The awards are the culminating event of the EY Strategic Growth Forum®, the nation's most prestigious gathering of high-growth, market-leading companies.
Founded and produced by EY, the Entrepreneur of the Year Awards are sponsored in the United States by the Ewing Marion Kauffman Foundation and SAP America. In the Michigan and Northwest Ohio Region program, regional sponsors include: RBS Citizens Charter One, Foley & Lardner LLP., Tanner Friedman, Crain's Detroit Business, NewsTalk 760 WJR, New Paradigm Promotional Marketing Inc., and Grand Valley State University Seidman College of Business
To post a comment Log In or Become a Member, doing so is simple and free