PPC Honors Safety Records at Spring Meeting
Friday, April 18, 2014
Press release from the issuing company
SPRINGFIELD, MA—One of the highlights at the Paperboard Packaging Council (PPC) Spring Outlook and Strategies Conference, April 2-4, 2014 in New Orleans, LA, was the presentation of the Safety Boxscore awards by Kyle Eldred, President of Frankston Packaging and PPC Board Vice Chair.
The awards are based on the cumulative number of hours a PPC member company worked in 2013 without an OSHA-recordable injury. 22 companies qualified for awards this year for 125,000, 250,000, 500,000, 750,000, and 1 million hours worked with no recordable injuries. Twelve-month awards were also presented to companies that worked an entire calendar year without injury.
The top Chairman's Safety Award—given for finishing the year with the most hours worked without an OSHA recordable injury—was presented to Graphic Packaging International's plant in Elk Grove Village, IL, for working 1,044,979 hours to date without injury.
"I am impressed that so many members are developing amazing track records in safety," said Brian Chaisson, PPC Director of Industry Benchmarking. "It is a testament to their focus and commitment to their staff that so many PPC members can claim this achievement year after year."
The companies that qualified for the awards include
Advance Paper Box
Artistic Carton Co.
ASG
Bert-Co Industries
Boehmer Box
CardPak, Inc.
Cascades Boxboard Group
Diamond Packaging
Ellis Packaging West
F.M. Howell & Company
Frankston Packaging
Graphic Packaging International
Imperial Packaging
Innomark Packaging Solutions
MeadWestvaco Corporation
Menasha Packaging
PaperWorks Industries
Rose City Printing & Packaging
Southern Champion Tray
Tap Packaging Solutions
Winston Packaging
Zumbiel Packaging
"Our safety award winners exemplify the excellence that can be achieved when leaders and team members work together to create culture committed to safety," says Stephen Scherger, PPC Chairman and Senior Vice President of Graphic Packaging International. "Ensuring that our workplaces are free from injuries is an imperative and we are thrilled to see so many member companies achieve benchmark levels of safe working hours."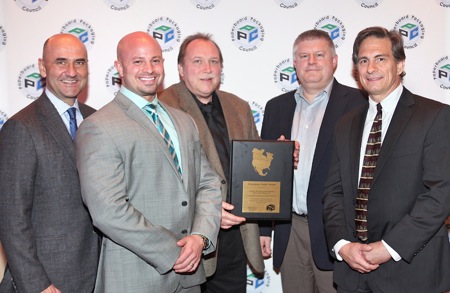 To post a comment Log In or Become a Member, doing so is simple and free