InPrint 2014 - A Game Changing Print Technology Show (Commentary by Cary Sherburne)
Thursday, April 17, 2014
InPrint 2014, which took place in Hannover 8-10 April, has been widely credited as an outstanding success by exhibitors and visitors alike.
The show succeeded in attracting senior decision makers from across a diverse range of industries who attended searching for industrial print technology. Visitors attended from a wide range of industries including ceramics, textile, packaging, aeronautical, automotive, fashion and pharmaceutical meaning that InPrint 2014 exceeded expectations from exhibitors whether they were showing industrial screen, 3D or inkjet printing technologies.
"The success of the world's first show focused upon industrial print proved that there is demand for an event that connects industrial print with the producers of industrial print solutions for manufacturing production from a wide range of industries. InPrint also benefited from a number of product launches which enhances the value for visitors tremendously. The organising team is delighted with the success of the show and excited about its future potential" Says Frazer Chesterman, Co-Director, InPrint.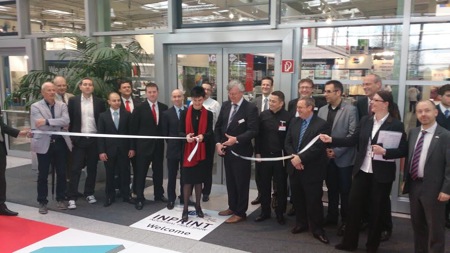 Organisers FM Brooks had originally targeted an attendance of 5,000 visitors and this target was exceeded by the close of the second day. More importantly exhibitors provided universal praise for this exciting launch event.
Comments from exhibitors and sponsors include:
"InPrint more than exceeded our expectations and was the perfect platform for the launch of our Xaar 1002 AMp printhead developed for Advanced Manufacturing applications. We have met many people from disparate industries interested in learning about the latest technology developments and exploring new manufacturing opportunities. Industrial inkjet is transforming the manufacture of various products across many markets and the buzz at InPrint proves that this is the right event at the right time. The future is very exciting." Mark Alexander, Xaar
"InPrint 2014 can be described as the right show at the right time. The interest from the industry has been exceeding our expectations with a very busy Agfa stand as a result. This is the kind of shows where you don't mind having missed lunch." Tom Cloots, Agfa
"Fujifilm showed ink, printhead and systems integration technology at InPrint and the show was an outstanding success with keen interest shown by a great many new customers." Jon Harper-Smith, Fujifilm
"We found the show most useful, with high quality leads from decision makers across a range of industries. This was exactly what we had hoped for from InPrint, and we feel our investment as a founding sponsor was well justified. We look forward to InPrint 2015!" Tim Phillips, Xennia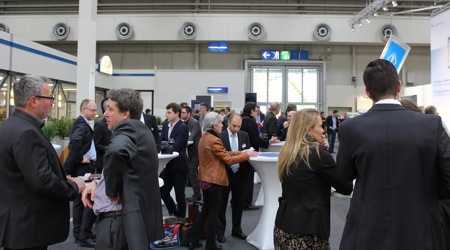 "Being an ambassador means that you have to believe in innovation. Industrial print is not only on the rise in the graphics industry, but also in many other vertical markets. The organizers of InPrint2014 have therefore picked their momentum perfectly to organise InPrint 2014. The Mimaki booth was buzzing with many new high quality vendors interested in the industrial print applications. The close proximity of Hannover Messe 2014 also enabled us to reach out to other markets and introduce them to the benefits print has to offer. InPrint 2014 has proven to be a new venture for the print industry, challenging the imagination of attendees, Mimaki is proud to have been its ambassador." Mike Horsten, Mimaki
InPrint Co-Director, Marcus Timson Concludes "InPrint 2014 was not just another print show. Attendees came from sectors not normally in attendance at a standard graphic or commercial print exhibitions. The show marketing campaign, the concept, conference and the excellent innovation shown by a committed set of exhibitors all worked well to produce an event that has broken new ground in print exhibitions." Concludes Marcus Timson, Co-Director InPrint.
Following consultation with the InPrint Development Group and analysis of thorough research into the next step of development with the InPrint Show, organisers will be announcing the date and location of InPrint 2015 within the next few weeks.
---
Commentary by Cary Sherburne
I had the opportunity to speak with InPrint2014 Co-Director Frazer Chesterman who was quite enthusiastic about the outcome of InPrint, the world's first trade show dedicated to industrial printing. Final attendance numbers and the dates for next year are being worked out now, so watch for more information over the next couple of weeks.

InPrint2014 had 130 exhibitors, who were, by all accounts, pretty happy with the number and quality of visitors. This was not specifically a printing show, but certainly should be of interest to anyone in the printing industry. Visitors included representatives from a number of manufacturing companies, like Ferrari, Airbus, Continental Tires and more. Chesterman stated, "These big manufacturing companies are trying to get their heads around how industrial printing technologies fit into the manufacturing environment. This includes both inkjet and 3D printing, in both the functional and decorative segments."

Chesterman concluded, "Industrial print has been on the mind of myself and Co-Director Marcus Timson for some time. We think we launched this show just at the right time and that we have reached a tipping point with these technologies. The success we saw at the show, with attendance far exceeding our expectations, is a good validation and we look forward to an even bigger show next year!"

Stay tuned for more commentary when the final number and next year's date are announced.