Pinstripe lead on colour at World Print Summit
Friday, April 11, 2014
Press release from the issuing company
Birmingham-based Pinstripe Print Group Managing Director, Nigel Lyon, drove the importance of 'colour in print' at the World Print Summit at IPEX last week. He made it clear that colour is fundamental to print, many say that they are colour specialists, but less than a handful of print companies can prove it.
Lyon underlined the importance and credibility of the Pinstripe's recent successful attainment of the BPIF ISO 12647-2 colour management scheme certification, and also how crucial and credible the attainment of standards such as the colour management can be for a print business going forward.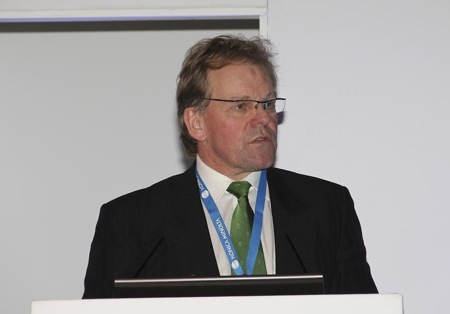 Nigel addressed an industry audience at the recent World Print Summit at this year's Ipex 2014 exhibition in London last week, which debated the issue of, 'Raising the Bar – Using Standards to Cut Costs and Secure Business'. Nigel spoke specifically on the importance of the colour management standard, particularly from a Birmingham-based business perspective, and how Pinstripe were now leading the field in this area of expertise.
He stated, "We are always striving for excellence, and we strive to be ahead of the game. Our customers demand that we work to standards, and we looked at the BPIF scheme and decided it had all the elements that could help us as a business."
He continued, "Colour standards are no exception, and it made sense that we implemented it. Colour is critical and fundamental to print, so if you are serious about what you do then why not have a standard that is both measurable and specific?"
"Implementing the standard was a no-brainer, and it is the only colour management standard that is UKAS approved which is critical as this gives the standard credence," he added. "More and more print procurement specialists are looking at this, as has been demonstrated by BskyB, who stated that standards say something about a business," he revealed.
Working together with Pinstripe's Colour Champion specialist, Paul Stone, Nigel admitted that it had been a long, but worthwhile 16 month process to implement the standard, which had included several obstacles that had to be overcome. Changes had also been made in all areas, including pre-press and the press-side of the business. "This is the hardest standard I have had to implement, and there were many challenges. The print test was one of the biggest challenges, which made it clear that we had thought was acceptable was not. We have raised the bar and quality has improved as result."
"Cost savings have also been made, we now have reduced our ink usage, there's less wastage and speed has also improved," he stated.
"We are now printing to a defined standard on a regular basis, and this has been crucial in helping us to win a recent Framework Tender win with Dudley Council," he concluded.
The colour management standard is now also moving forward to being accepted as an international standard, a fact which could ultimately help persuade more printers to seek its adoption as a critical element to their business.
Pinstripe attained the accreditation in January this year, after completing the British Print Industries Federation's (BPIF's) ISO 12647-2 certification assessment under Print & Media Certification (PMC), a UKAS accredited body.
The standard completed another major milestone for the forward-moving Pinstripe, following its successful completion of a significant £900,000 investment programme in 2012/13.
This investment, along with Pinstripe's existing capabilities, places Pinstripe as one of the most technically advanced print and print management businesses in the UK. Pinstripe operates in the following markets; Public Sector/Local Government, Retail, Banking and Financial, Service and Agency.
Pinstripe is a well-respected marketing and print service provider, operating from a purpose built, 18,000sq ft. factory unit, situated in central Birmingham. The company works under 14 Framework Agreements and several Preferred Supplier Agreements. They are based in the centre of Birmingham and work with an enviable list of customers including; Grosvenor Casinos part of the Rank Group, Stonegate Pub Co., NEC Group, Centro, Birmingham City Council, Aston and Coventry Universities, Keele University and the University of Warwick, Birmingham University, West Midlands Fire Service, Coventry and Solihull Council's, Shaylor Plc, Trinity Mirror, Birmingham Dog's Home, Kitchen Craft, Investec and Midlands Art Centre.
As a "marketing support services provider" Pinstripe's product and services offering covers the whole spectrum. Its product range includes; brochures, annual reports, magazines, leaflets, manuals, maps, catalogues, point-of-sale material, exhibition collateral and stands, promotional merchandising and corporate wear.
Along with attaining the BPIF ISO 12647-2 certification, Pinstripe is also ISO 9001 and ISO 14001 certified, OHSAS 18001 and both FSC and PEFC Chain of Custody certified and is a certified Carbon Balanced Publication printer. Pinstripe also works and adheres to the Data Protection Act 1998 standard.
Pinstripe is also a member of the following organisations: Platinum member of The BPIF (British Printing Industry Federation), Birmingham Chamber of Commerce and Two Sides.
To post a comment Log In or Become a Member, doing so is simple and free