Warren Board launches iPad Air prize playing card promotion with Stora Enso
Friday, April 04, 2014
Press release from the issuing company
Warren Board Sales Ltd., the UK's leading independent cartonboard and graphical board stockist, has announced that it is launching a playing card style promotion featuring Ensocoat, Chromocard and Tambrite from Stora Enso. Customers have the chance of winning one of three iPad Air's, over a three-month period.
The prize-winning campaign will firstly promote the characteristics and qualities of Stora Enso's packaging and graphical board grade, Ensocoat, closely followed by competitions promoting Chromocard HB (High-Bulk) and Tambrite H/S (hard-sized) with an iPad Air available to win in each month.
As part of the unique promotion, customers will receive a deck of 19 playing cards, together with a loose A5 playing card in an envelope, both of which have been personalised.
The carton holding the cards was printed on Ensocoat 275gsm, with six cards inside also printed bearing Warren Board's colourful mascot Starsky to demonstrate the ink hold-out of each product. Three of the playing cards were also reverse printed to illustrate the printability on both sides of Ensocoat, Tambrite H/S and Chromocard HB.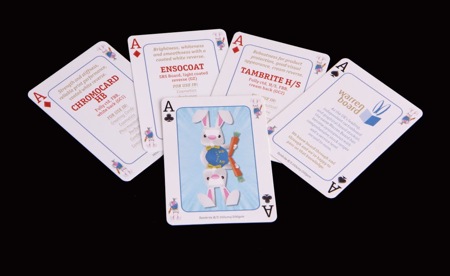 Commenting on the prize-winning collaboration, Kieran Ferguson, Warren Board's Managing Director stated, "We are delighted with the results achieved on this simple, yet effective promotion. Clearly demonstrating the physical characteristics of all three products in one handy pack, it also highlights their suitability for traditional as well as digital printing."
With its dazzling whiteness and supreme smoothness, Ensocoat is the board of choice for the most demanding high-end packaging and graphical applications, and is known for its excellent printing and converting characteristics. A unique feature of Ensocoat is that it offers unique printability on both the top and reverse side. FSC® certified stock is also available.
The multi-layered construction of Chromocard HB ensures reliability and gives exceptional high-speed print performance in all grammages. Chromocard HB gives optimal strength and remarkable stiffness, together with a coated white reverse, and is the perfect choice for reducing grammage without comprising on performance, and is also FSC® certified.
Tambrite H/S is a fully-coated virgin fibre folding boxboard with a cream reverse, providing excellent stiffness and bulk without compromising on visual performance. Tambrite is a true all-rounder for packaging when product protection, performance and reliability are paramount. Tambrite is also available with FSC® certified stock.
Stora Enso has been a long-term partner to Warren Board with the main focus being on their high-quality packaging grade, Tambrite. Following Warren Board's successful development of the commercial and graphical print market, their relationship has been further strengthened by the addition of both Chromocard and Ensocoat to its ranges.
With a 37 year trading history and operating from 100,000 square foot premises in Glenfield, Leicestershire, Warren Board Sales employs a team of around 30 staff with a combined industry experience of over 300 years across its team.
To post a comment Log In or Become a Member, doing so is simple and free