adphosNIR®- Photonic Curing/Sintering Technology ideally suited for your PE – Application
Friday, April 04, 2014
Press release from the issuing company
adphos Digital Printing GmbH, located in Bruckmuehl (near Munich), is a worldwide leader in high performance drying, curing, sintering and heating applications. The modular technology is suitable for post-processing color inkjet, functional coatings and printed electronics.
adphos will introduce together with its partner, Firma SAUERESSIG FLEXO GmbH & Co. KG, their newest family of PE lab-to-fab drying, curing and sintering products live at the LOPEC event on May 27-28, 2014 in Munich (Booth 318). adphos will showcase the new features in drying and sintering within seconds of screen/flexo, and inkjet printed patterns of conductive ink on temperature sensitive substrates through live demonstrations.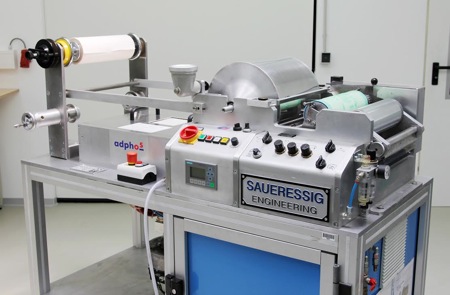 The demonstration of the equipment will outline the dynamic capability of the photonic curing technology with accelerations/decelerations of the web transport. Thus, the company will uphold the standards of adphosNIR® patented-curing principle (within less than 0.5 s total process time).
Aside from live demonstrations, several other adphosNIR® systems devices are going to be displayed on booth no. 318. Clients will be able to participate in the demonstration of adphosNIR® photonic sintering process step.
All adphosNIR® patented systems feature compact optimum drying, curing and sintering solutions for maximum performance in almost all thermal liquid and solid coatings. It also includes both, sheet and continuous web, even for molded and other 3D-components and for different kinds of substrates. Since 1996, adphosNIR® technology has been successfully proven in a wide range of applications by more than 2,000 production systems. This technology is easily adapted to production scale and available by analytical scale up of laboratory based and verified thermal process configurations.
To post a comment Log In or Become a Member, doing so is simple and free