Commercial Printer Runs - Literally - On People Power
Tuesday, April 01, 2014
Press release from the issuing company
More and more large commercial printers are placing an emphasis on their employees' health and fitness, with many offering in-plant gym facilities and even personal trainers. But Pec Brothers Printing in Albany, Ga., is taking employee fitness to the next level. Not only does the company offer in-house workout facilities, but the exercise equipment actually powers the presses.
"We realized that if we hooked up the treadmills, stationary bicycles, and rowing machines to our power grid, we could reduce and even eliminate our dependence on the electric company," says Gregory Pec, co-owner of Pec Brothers Printing. "It keeps both our staff and our bottom line healthy."
The experiment has proven to be such a success that the company actively looks for athletic ability when recruiting employees.
"For a long commercial run, we really need press operators who can do at least a half marathon," says Pec. "I mean, 13.1 miles is really the lower limit for that kind of work. For some of our short-run digital jobs, it's a very fast-turnaround business, so we look for sprinters, people who can do a 5K in under 20 minutes." Pec Brothers also produces collateral materials like letterhead, powered by what the company refers to as its "stationery bicycles." "And to power our very-long-run monthly catalog job, we've begun offering spin classes," says Pec. "'Again, faster!' has become our company motto."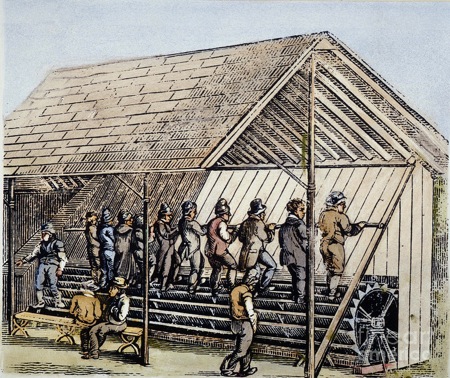 Some of the runners prefer to train outside, since being exposed to the elements is an important part of marathons. With the assistance of the corporate park developer, and contributions from fellow tenants, the company built a one-mile track around the complex. Runners are required to wear backpacks with pinwheels, and the spinning pinwheels are connected to chargers for laptop batteries and other portable devices. "Running with a backpack full of tablets and smartphones helps us build the stamina we need," said Lee Theyum, who took over the program from Nick L. Cadmeham, one of the founders of the company. "We're also experimenting with the recovery of salt from the sweat of the runners."
As more of the company's jobs have become unique, customized, high-value applications, Pec Brothers has had to look for a different kind of employee athlete. "CrossFit has become ideal for the kind of work we're now getting," says Pec, who recently affiliated CrossFit Offset, with athletes connected to special workout gear that harnesses the power of their movements to run the equipment. "Our workouts-of-the-day are programmed to be the most compatible with whatever work we have in the shop at the time," says Pec. "It could be sets of 30 double-unders coupled with 15 power snatches until the job is complete. Or an ascending ladder of deadlifts and box jumps. Whatever the job calls for." Even the company's prepress equipment has been hooked up to the athletes. "Rip your abs while you RIP a job" has become another company motto.
"It gives our athletes—I mean, employees—a good motivation for getting jobs done as quickly as possible."
"We did a complicated, multi-piece variable-data job last month," says Fran Froning, one of Pec Brothers' top performers. "From the complexity of the front-end processing to the elaborate finishing and kitting—it was 21-15-9 reps of 75-pound barbell thrusters and pullups. Man, that workout sucked."
"Fran killed that print job in 3:35," said Pec, "and the customer was completely satisfied."
The nearby college has asked if their crew team can train as part of the program. "We all know that rowing requires strong legs, so we're thinking of moving our fulfillment operation upstairs. Or even downriver. Each team member will grab an item out of inventory and run upstairs to get it, then run it back down, and sprint with it to the shipping department."
It's that time a year again we thought we would have a little fun. We hope you enjoy our April Fools
To post a comment Log In or Become a Member, doing so is simple and free