Staten Island Advance's new Goss Magnum Compact press will boost newspaper and commercial printing capacity in New York City region
Wednesday, March 19, 2014
Press release from the issuing company
Will be first press of its kind installed in the world
Advance Publications will install a new Goss Magnum Compact press this fall in Staten Island, New York – a move that will add versatile, short-run capability in combination with output capacity approaching that of its existing double-width system.
The installation, which is expected to be completed by October, will make Advance Publications the first United States user of the press.
The six full-color Magnum Compact print towers and one folder will accommodate a growing volume of contract newspaper, commercial and insert printing, and also backup a double-width press used to print the daily Staten Island Advance newspaper.
Advance Publications executives were on hand for live print tests at the Goss manufacturing facility – tests that included fully automatic plate changes.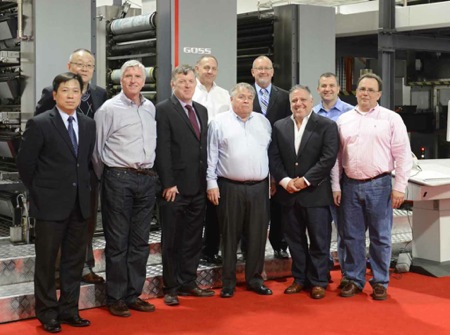 "We looked at many double-width, single-width and digital options to support our vision of a modern, multi-product print operation," said John Giustiniani, Director of Production at the Staten Island Advance.
"Versatility, job-change speed, print quality and simple, cost-effective operation make the Magnum Compact unique – and the right press to meet our needs," Giustiniani added.
"We were particularly impressed by its clever configuration, which takes advantage of the low 7' 2" height [2.2 meters] of its towers – a feature that is allowing us to add the capacity we need with only very minor modifications to our existing building."
Goss Autoplate technology also factored in the decision in favor of the Magnum Compact press, according to Giustiniani, who says fast makereadies for successive jobs will be a key to the success of his company's business model. The fully automatic Goss plate changing system enables operators to change all plates or any combination of plates.
"The ability to go from job to job in two minutes or less with extremely low waste and operator effort makes this press cost competitive with digital printing at around 1,000 copies," Giustiniani said. "And we will achieve the quality, economy and output of offset as the run lengths go up from there."
"This investment in the heart of New York City will differentiate us among contract printers and publishers throughout the region," said Staten Island Advance Associate Publisher Keith Dawn. "The unique Goss solution will give us more versatility in producing our current titles and clear cost advantages in pursuing a wide range of newspaper and commercial work."
For more information about contract newspaper, commercial and insert printing at the Staten Island Advance, contact John Giustiniani at johng@siadvance.com.
To post a comment Log In or Become a Member, doing so is simple and free