Kodak Solutions Increase Efficiency and Automation and Enhance Data Security for Serio
Friday, March 14, 2014
Press release from the issuing company
EYSINS, SWITZERLAND – Serio, a leader in the paper-transformation and graphics industries, has installed a CTP system that includes two platesetters, a KODAK MAGNUS VLF platesetter and a KODAK TRENDSETTER VLF platesetter, the KODAK PRINERGY CONNECT Workflow System, KODAK INSITE Prepress Portal and KODAK Virtual Operating Environment in order to virtualise its workflow servers.
Ever aware of the evolutions in technology and certain of the product and service quality offered by Kodak, Serio decided to install the KODAK PRINERGY CONNECT Workflow System and KODAK INSITE Prepress Portal, a web portal that allows secure access to the prepress production cycle.
Serio also decided to acquire the KODAK Virtual Operating Environment. This function reduces costs significantly, increases efficiency and improves the degree of protection in case of faults, by simultaneously hosting multiple virtual servers on one or more redundant physical servers.
This virtual operating environment has allowed Serio to achieve its goal of intensifying data security and simplifying IT management. The servers hosting the KODAK PRINERGY CONNECT Workflow and KODAK INSITE Prepress Portal can now be configured and expanded more efficiently, providing a higher level of data security and minimising down-time due to hardware failures.
Prepress specialists at the service of an international group
Founded in 1987 and headquartered in San Paolo d'Argon near Bergamo, Italy, Serio, has been part of the Lediberg group, a leader in the paper-transformation and graphics industries, for around ten years. Currently the central prepress centre for the group's production of diaries, notebooks, promotional items, catalogues and books, Serio will soon become the Lediberg Prepress Division, which will co-ordinate, manage and develop the entire group's prepress activities worldwide. In Italy alone, there are eighteen printing machines that can count on the Serio plant and systems.
The company's founder Eugenio Callioni comments, "We're meticulous about quality and internal training is an ongoing process because we want our people to be ready to recognise and resolve problems, in order to obtain the best possible results from our tools. We have chosen Kodak products because the technology enables us to improve our working relationship with our customers and it helps us to optimize the production cycle.
"For some customers, we organize training sessions to help us produce better products together, and we can even develop unique procedures for individual customers. We are also working to harmonize and normalize the resources at our subsidiaries, to fine tune them and reduce costs - you could call it a sort of standardisation."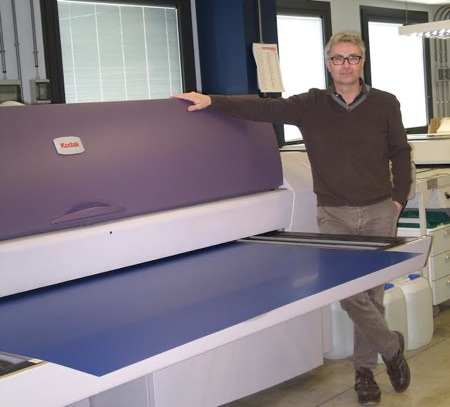 KODAK Solutions make the difference
Reliable, secure workflow instruments are essential to manage massive quantities of data: that's why KODAK PRINERGY CONNECT Workflow, KODAK INSITE Prepress Portal and KODAK Virtual Operating Environment were chosen.
The workflow at Serio starts in the KODAK INSITE Prepress Portal, supported by KODAK PRINERGY Software, which is automated by KODAK PRINERGY Rules-Based Automation. The portal is the workflow web interface, which allows an external customer to create and submit jobs independently, at any time, regardless of whether anyone is on the premises. The customer can upload PDF files generated according to the specifications, check preflight outcomes, check and approve jobs, and launch automatic processes that lead to proofs being reviewed.
Serio's technicians especially appreciate the flexibility of KODAK INSITE Prepress Portal, as Secure Link facilitates communications with customers. This personalised e-mail system can be used by customers to send specific requests, such as file submissions or approval of specific pages, via an access link. KODAK INSITE Prepress Portal is a web solution not just for customers, but also for graphic designers, who can work remotely without any problems.
"It was fundamental for us to reduce interruptions so as to maintain workflow continuity and guarantee order delivery. It was also essential to choose software that would allow access to the system from all our sites. VOE was the right solution," says Eugenio Callioni.
Consolidating servers reduces investment and operating costs, increases uptime and guarantees the quality of services offered to customers. Fewer IT system administration activities are required to maintain general operation of the infrastructure, while maintenance and production are also easier to manage because there are fewer physical servers to install, run and update.
In practical terms, the virtual servers are concentrated in a solid IT infrastructure that also allows for data replication. "So if there's a fault, having something virtual means that the recovery time for software that has stopped operating because a physical server is down is very short. This provides data integrity and flawless service," emphasizes Eugenio Callioni.
Prepress cannot exist without CTP and Serio has two KODAK Platesetters that turn out a large number of plates every year, with some remarkable production peaks: Serio produces up to several hundred plates per day with its KODAK MAGNUS VLF Platesetter.
Shrewd investment is a guarantee for the future
Serio has invested in the security and speed that is its hallmark, but that is not all.
"We do our best to ensure zero-defects production, to provide our customers with punctual deliveries, data security and integrity thanks to constant investment to increment automation. With ongoing training for our staff and constant contact with our customers, we can all grow together," Eugenio Callioni concludes.
Giuliano Bianchet, Mediterranean Cluster Business Director at Kodak, comments: "We're delighted to be working with Serio as it evolves and takes responsibility of the entire Lediberg Group's prepress operations. The fact that Serio has chosen Kodak to consolidate the company's changing needs is testament to the impact that our technology can have on the management of large data quantities, in turn reducing production complexity and costs and increasing overall efficiency."
"The KODAK PRINERGY CONNECT Workflow System and the KODAK INSITE Prepress Portal boast highly intuitive user interfaces for both the prepress production team and the customer, and with our continued support, a highly efficient and secure alliance has been quickly achieved. Combining these with the KODAK Virtual Operating Environment, the KODAK MAGNUS VLF and the KODAK TRENDSETTER VLF Platesetters means Serio, and soon the Lediberg Prepress Division, can minimize errors and increase production levels without compromising on quality, and we look forward to seeing the results in the future."
To post a comment Log In or Become a Member, doing so is simple and free