Bullseye Develop Point of Sale Arm with CAD Software
Wednesday, March 12, 2014
Press release from the issuing company
Bullseye Print and Awards have invested in ArtiosCAD design software to develop their offering for low run, cost effective point of sale (POS).
Having launched their new print website www.bullseyeprint.co.uk earlier this year, ArtiosCAD is the latest investment for Bullseye as they have spent eight years building up their digital printing facilities. Their Slough production facility now has a large format UV flatbed printer (HP FB700) and a CNC cutter (Kongsberg iXL-44), as well as multiple solvent, sublimation and aqueous machinery.
Sales Director Joe Murphy has said "ArtiosCAD really complements our flatbed UV printer and our CNC cutter because we can produce incredibly bespoke POS units with no minimum quantities, at a much more affordable price than before. ArtiosCAD takes the technical expertise out of designing for POS."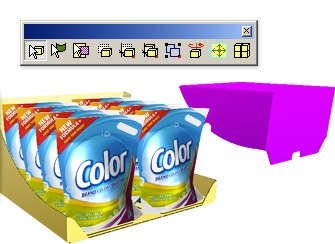 ArtiosCAD is a software package designed by Esko that uses pre-designed templates to create point of sale displays and packaging designs. Designers with no previous CAD experience can alter these templates to produce unique designs, with the option of exporting 3D PDFs and flat templates to apply graphics. The advantage of this software is that it reduces the cost of creating a bespoke free standing display unit (FSDU) because a lot of the cost is tied up in having a professionally CAD designed unit, as well as the production itself.
Marketing Director Jack Murphy has said "We are very excited at the potential this has for small businesses and local charities, because they can now have the same quality point of sale as all of the much bigger organisations. It's another development in digital printing that levels the playing field, for us and for our customers."
Bullseye plan to use ArtiosCAD to design a line of off-the-shelf point of sale display units later in the year that can be full colour printed with larger sections available for personalisation. Jack has said "These templates will make the whole production process quicker as we won't have to spend time producing the individual designs in ArtiosCAD every time someone needs an FSDU. This will reduce the cost for our customers, which is a saving they can then pass on to their own customers".
To post a comment Log In or Become a Member, doing so is simple and free