New direct-to-garment printer meets stringent colour demands of the fashion and sports industry
Tuesday, March 11, 2014
Press release from the issuing company
Kornit Digital's Avalanche Hexa widens the gamut with red and green
For precision colour matching and very fast throughput speeds, leading direct-to-garment innovator and manufacturer Kornit Digital has announced the commercial availability throughout Europe of its Avalanche Hexa six-colour system which features its NeoPigmentTM process that can print direct to multiple fabric types. Bringing a 30% gamut increase as the only system to add red and green to the traditional CMYK palette, and with the inclusion of white ink, this machine has already been welcomed during its beta testing phase. Top fashion and sports licensing printers throughout Europe and the USA have praised its performance and, since its launch in January this year, machines have already been sold to Germany, France and Portugal.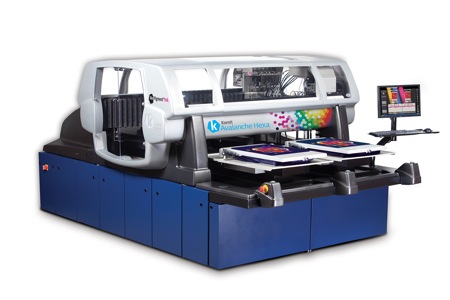 Kornit Digital partnered with top fashion printers throughout Europe, including Blur Impressao Digital Textil of Barcelos, Portugal, during the beta testing phase of the Avalanche Hexa. "The extended colour range of the Avalanche Hexa sparks our creativity," says Mariano Dias, owner of Blur. "It helps us produce really outstanding prints. It is not only the brilliant reds and greens that we get; the Avalanche Hexa produces smooth and saturated colour all over the colour range. Plus, the speed of the system is really amazing."
With its unique inclusion of red and green, plus regular CMYK and white, the Kornit Avalanche Hexa simplifies spot colour handling and colour matching, with users able to reproduce branding and specific shades quickly and accurately. Corporate logos can now have their identities reproduced easily and precisely first time across all fabric types, reducing waste and saving on time and costs.
Regarded as an important addition to Kornit Digital's growing versatile product portfolio, the Avalanche Hexa is designed for fast throughput and superb quality, supporting a fast return on investment for users. It incorporates 20 Dimatix Spectra Polaris print-heads, renowned for their rugged and accurate performance, with 256 nozzles each, optimising production across the overall print area of 60 x 90cm (23.5 x 35 inches). Additionally, this printer includes an integrated humidity system, battery back-up and automatic maintenance procedures for reliability and ink saving efficiencies.
Kornit's innovative NeoPigment process brings users all the benefits of working with pigmented inks without any of the disadvantages, with no pre-treatment being required. The inks are formulated for virtually all types of material and meet the most rigorous environmental regulations, including OekoTex 100 standard and GOTS V3.0. NeoPigment's overall efficiency is complemented by brilliant and intense colours, an excellent 'hand', and long-term durability and washfastness.
"At Kornit we're not surprised to learn that the benefits of the Avalanche Hexa appeal greatly to any print company needing colour accuracy for fashion and branding," states Wilfried Kampe, General Manager of Kornit Digital Europe. "Successful beta testing has shown that this direct-to-garment system offers the speed, quality and the best colours that the market needs, particularly when moving up to an advanced machine or making the transition from conventional screen-printing to the convenience and versatility of digital print."
All of Kornit Digital's direct-to-garment and textile decoration systems are available through its world-wide network of specialist resellers. With a comprehensive portfolio of printers from entry-level through to mass production models, it is the only company that not only designs and builds machines but also develops and manufactures its own ink.
To post a comment Log In or Become a Member, doing so is simple and free