Hollywood Monster turns to CMYUK Digital for superwide-format investment
Wednesday, March 05, 2014
New EFI VUTEk GS5000r brings versatility, quality and speed to 5m production
To bring its superwide-format print quality standards up to the same level as produced on its existing VUTEk 3.2m GS3250, Hollywood Monster has installed an EFI VUTEk GS5000r supplied and installed by UK authorised distributor, CMYUK Digital. The West Midlands based display specialist of fast turn-round high quality graphics opted for the 5m machine to boost its existing production at this width, bring greater versatility across roll-fed applications and optimise consistency in its results.
It was essential for Hollywood Monster to achieve the same colour matching standards across its high-end UV-curable platforms. Although machines from other manufacturers were investigated, director Simon McKenzie believed it made sense to purchase another VUTEk printer so that the same productivity software, RIP and colour management capabilities were employed. "It is now easy to produce identical results regardless of the media we're using," he explains. "From an operator's perspective, the interface is the same and setting up each job is simplified and faster - an important element when fast change-over is required."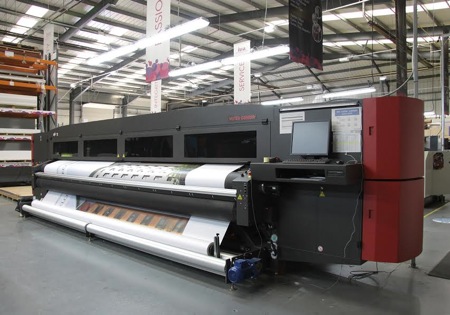 Based in Tyseley, Birmingham, Hollywood Monster works with many of the largest names in retail, commercial property and construction, sport, television and theatre. Innovation has been complemented by careful investment in the best production equipment and, with the right mix of talent and skill, the company maintains its leading place ahead of the competition.
"The VUTEk GS5000r brings us additional benefits, as well as producing high speed high quality print," states McKenzie. "Its versatility means that we can work with multiple rolls to enable us to produce three 1.62m wide jobs simultaneously, and the high opacity white ink has an advanced three-layering capability so that we can easily use non-white and coloured materials."
"Hollywood Monster has built up a very high reputation for producing the best quality interior and exterior displays, so it depends totally on quality and reliability in its printing machines," adds CMYUK Digital's Robin East. "The addition of the VUTEk GS5000r now enables the company to leverage the capabilities it offers its clients and cater for the increased demand in versatility."
CMYUK Digital is the UK's authorised distributor of EFI VUTEk wide- and superwide-format printers, as well as a specialist reseller for Mimaki UV-curable systems, A Berger soft sign and textile fabrics for digital printing, SpiritTEX display profiles for textiles, and Zünd flat-bed cutting tables. The company also offers full colour management set-up and trouble-shooting and a range of useful service options.