EFI helps Kent display specialist reduce the numbers and up the output
Friday, February 28, 2014
Press release from the issuing company
PressOn cuts its printers down to two, thanks to its VUTEk QS2-Pro's versatility
Since taking delivery of its EFI VUTEk QS2-Pro supplied by CMYUK Digital, Rochester-based PressOn has discovered a surprising wealth of benefits ranging from versatility in productivity through to ease of ownership. The company has now reduced the number of digital platforms in its facility from more than half-a-dozen to just two, with the versatile combination flat-bed and roll-fed UV-curable machine handling the lion's share of output, including work formerly produced on a latex printer.
Joint founding managing director of PressOn, Andy Wilson, comments: "In truth, we hardly know we own the VUTEk QS2-Pro as it works day in, day out completely flawlessly and we can't fault it. Its versatility is unmatched and we can be printing canvas in the morning, polyester at noon, wood at lunchtime, and foamex in the afternoon, plus a lot more in the way of variety, including a large amount of vinyl film."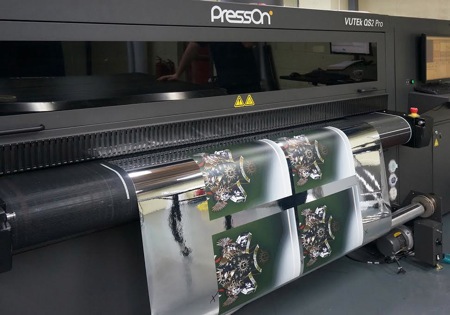 Such is the versatility of his 2m wide machine that Wilson states many jobs formerly printed using his latex printer have now been migrated very successfully to UV-curable ink, thanks to its greyscale print-heads, excellent adhesion and good flexibility across different surfaces and materials. Installed with Fiery proServer, job processing is fast and efficient, proving the perfect complement for the VUTEk QS2-Pro's effortless production capabilities.
Wilson has pushed his VUTEk QS2-Pro to limits not normally associated with UV-curable technology. He states that the machine is particularly competent when working with traditionally tricky materials, such as gold polymerics, and clear substrates which benefit from the highly opaque white coverage. The inks offer great flexibility with excellent adhesion, making the results easy to cut and route, as well as being suitable for wrapping applications.
"PressOn is a classic example of a busy company successfully optimising its printing facilities to achieve streamlined and faster throughput in a combination flat-bed and roll-fed printer," comments CMYUK Digital's Robin East. "These days prudent businesses don't want to free up large amounts of space or resources for multiple machines when one or two will be equally, if not more, productive. The versatility of VUTEk platforms confirms how adaptable UV-curable inks can be across a vast range of rigid and flexible materials."
Situated in Rochester, Kent, PressOn was formed in 2000 by directors Nigel Webster and Andy Wilson, and specialises in the production high quality interior and exterior displays for a broad range of local and national clients. CMYUK Digital is the authorised UK distributor of EFI VUTEk wide- and superwide-format printers with a nationwide base of end users from all areas of the graphic arts' industry.
To post a comment Log In or Become a Member, doing so is simple and free