Imaginative Group adds Duplo DBM 150 booklet maker, Face Trimmer and Morgana 104 Square Fold from Sydney Stone to their growing business
Thursday, February 27, 2014
Press release from the issuing company
Imaginative Group is an exciting Windsor based specialist in Print, Fulfillment, Design, Marketing, Web solutions and media. At the Graphics Canada show they visited the Sydney Stone booth with the hopes of learning about the various options available for booklet making. Sydney Stone was demonstrating booklet making solutions both new and reconditioned from Nagel, Morgana and Duplo. Based on the requirements of the Imaginative Group the Duplo DBM 150 with face trimmer and inline Morgana 104 Square fold was recommended.
"We are excited add to our capabilities with this new booklet making solution " said Greg Plante, Owner of Imaginative Group."The ability to quickly and efficiently produce a saddle stitched book off our digital print engine of such exceptional quality and the look of a perfect bound book is what drove us to this solution from Duplo and Morgana."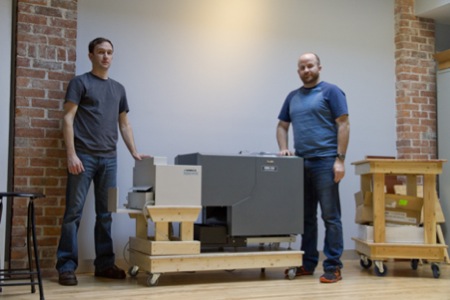 Production Manager Rob Plante left and Owner Greg Plante right at Imaginative Group with their DBM 150.
The Duplo DBM 150 bookletmaker and DBM 150 face trimmer was launched at Graph Expo as an upgrade from the Duplo DBM 120 booklet making system. The new features of the Duplo DBM 150 include fully automated production from CD size up to 12 x 18 sheet books, 25 sheet capacities on both the bookletmaker and face trimmer and a revised staple head system. This new bookletmaker can be used in-line with a Duplo collator or sheet feeder OR could be hand fed as a pre-collated set for quick and easy use by digital printers. Sydney Stone is able to add inline the Morgan 104 Square folder to produce a square back book that replicates the look of perfect bound.
"Greg visited us at the recent Graphics Canada show took the time to review the wide range of bookletmaking equipment Sydney Stone offers. After consulting with Greg about his specific applications , the clear choice became the NEW Duplo DBM 150 and 150 Trimmer which we complimented with an in-line Morgana 104 Square fold "" Said Michael Steele, Sales Director of Sydney Stone
He adds "It is tremendously important to us that we properly evaluate our customers applications as the range of equipment that Sydney Stone has on offer for booklet finishing alone is very broad. This is really where the technical knowledge of our sales people is allowed to shine – we strive everyday to bring meaning to expertise."
To post a comment Log In or Become a Member, doing so is simple and free