Polish Packaging Printer Invests in KBA Technology Once Again
Thursday, February 13, 2014
Press release from the issuing company
Intropak on growth curve with six-colour Rapida 105 hybrid press
Packaging printer Intropak P?ochocki & Wspólnicy Sp.j. in Celestynów, near Warsaw, fired up a six-colour KBA Rapida 105 with coater and delivery extension at the beginning of this year.
The press is equipped for mixed operation with conventional and UV inks as well as finishing with water-based and UV coating. With this investment the 40-year-old firm reaffirmed its successful partnership with KBA.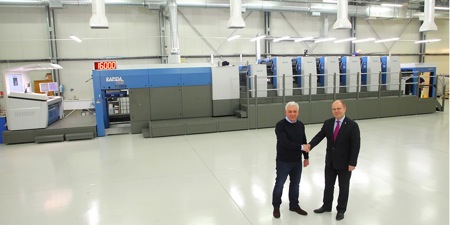 Intropak has an excellent market position in carton printing. Its broad customer base consists of clients from the music, cosmetics, food and electronics industry, as well as from other branches including publishing. Along with printing and finishing, Intropak offers various finishing services, such as coating (including UV), laminating, gold blocking, embossing, and window cutting and gluing. The new Rapida 105 has paved the way for further finishing effects. Intropak's management made a conscious decision to invest in a hybrid press which enables the use of conventional and UV inks in combination with various types of coating.
Proprietor Dariusz P?ochocki:"We have used press technology and services from KBA for over twelve years. Press and process technology were also deciding factors which made us place an order for the new Rapida 105 at KBA's Polish subsidiary KBA CEE once again. Along with a larger sheet format, this press offers us a nearly endless array of possibilities in terms of inline finishing, which we aim to exploit fully."
The Rapida 105 at Intropak is mounted on a 450mm (17.7in) plinth for printing packaging and is equipped with additional board and film packages which handle a maximum stock thickness of 1.2mm (48pt). Automatic plate changing, CleanTronic Multi and CleanTronic UVwashing systems as well as nonstop rollers in the delivery all contribute to short makeready times. The press features VariDry IR/TA/UV dyers in the delivery extension and delivery as well as a UV interdeck dyer which can be positioned freely between the printing units. In addition, ErgoTronic ColorControl for measuring colour density, ErgoTronic Lab for colour measurement and control based on Lab values as well as QualiTronic ColorControl for inline quality control all ensure a consistent high quality and low waste levels.
"With its extensive kit our new Rapida 105 has much more potential than its predecessors," Dariusz P?ochocki concludes. "It allows us to expand our product portfolio. We are confident this new medium-format press will deliver a boost in quality and output, which was the case with our previous KBA presses."
Along with the Rapida 105's high level of productivity, inline quality control was of particular importance to Intropak and it is an integral pillar of the firm's internal quality management in accordance with ISO 9001. This new investment is part of an extensive package of measures aimed at improving production processes and the performance of the entire printing house. "All of this, including a three-shift production schedule, contributes to a high level of customer satisfaction in Poland and abroad," co-owner Katarzyna Kulisz adds. "It is important to our customers that we invest continually in cutting-edge technology and thus able to offer packaging with a special flair and added value."
Jan Korenc, managing director of KBA CEE: "We are very pleased that Intropak, a firm with a good reputation not only in Poland but also internationally, opted for a hybrid sheetfed offset press from KBA. This press facilitates production with a raft of inks and coating. We hope that the new Rapida 105 will contribute to the dynamic development of Intropak, just like the firm's previous KBA presses have done."
To post a comment Log In or Become a Member, doing so is simple and free