Fastsigns of Sherman Honored at Annual Convention
Thursday, February 13, 2014
Press release from the issuing company
SHERMAN, Texas - Signs and graphics provider FASTSIGNS® of Sherman was recently recognized as a runner-up for the 2013 Comprehensive Customer Solutions Awards at FASTSIGNS annual convention for the outstanding visual communications they provided Green Market's new location on Texoma Parkway.
Locally owned and operated, Dave Murray and Tom Oxley's opened Green Market in 2005. It is a full-service, natural foods and vitamins store offering a wide selection of organic and gourmet foods, herbs, nutritional supplements, pet food, body care products and produce. Since opening, Green Market has grown to 26 employees, undergone four expansions in three existing locations and, in 2013, launched a comprehensive branding campaign.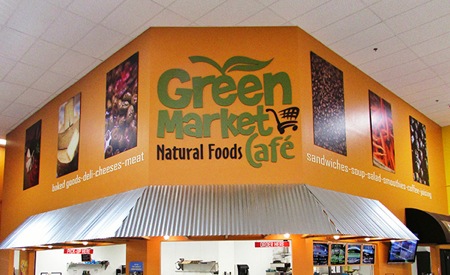 "With our growth and expansion, I wanted to create a bigger presence in the community but still emphasize that we are independent and locally owned," said Murray. "So when we relocated around the corner to a larger space, I wanted to move forward with a unique comprehensive branding campaign throughout the store. Our location now is triple the size of our older facility and we were able to open a deli and café."
To bring Green Market's ideas to life, Dave worked with visual communications company FASTSIGNS of Sherman, another locally owned and operated business. After collaborative planning, consulting and designing, they came up with a mix of creative solutions for the store including everything from aisle markers and directional signs, to window shades, door graphics, café signage, point-of-purchase signs and interior décor.
"It was an amazing opportunity to be a part of Green Market's new marketing vision," said Todd Bass, owner of FASTSIGNS of Sherman. "Dave's business concept, artwork and hard work were the foundation for everything our team was able to accomplish and we couldn't be happier with the way it turned out."
The signs and graphics installed in the new location are made from a variety of materials and techniques including vinyl, paper posters, dimensional letters, rigid and semi-rigid signs and cedar wood, all of which were chosen to accent and promote Green Market's natural and organic products and stay within budget.
"Some of my ideas were more unconventional and FASTSIGNS was able to take my concepts, expand upon them and provide great visual and material solutions," explained Murray. "The team at FASTSIGNS was super responsive, involved and exceeded my expectations. I look forward to continuing the relationship with FASTSIGNS to provide more new and exciting media and visual communications for my store."
FASTSIGNS of Sherman opened less than two years ago. Located at 1916 N. Grand Ave., FASTSIGNS provides a wide-range of visual communication solutions including wall, window and floor graphics, architectural signs, banners, tradeshow exhibits and displays, wayfinding solutions, digital signs and more.
To post a comment Log In or Become a Member, doing so is simple and free