Roland Authorized Reseller, Packaging Innovations, to Exhibit at Packaging Innovations 2014
Wednesday, February 12, 2014
Press release from the issuing company
Packaging Innovations (UK) Ltd, a Roland Authorised Reseller specialising in the packaging sector, has confirmed its attendance at the Packaging Innovations Show, NEC, Birmingham, from 26 to 27 February 2014. The company will be exhibiting on the Esko stand (G17) and demonstrating the ORIS Flex Pack / web-based hard copy and soft proofing and prototyping solution incorporating a Roland VersaCAMM VS300-i. It will be the first time the ORIS Flex Pack solution will be publicly demonstrated with Roland's new VersaCAMM VS300-i printer/cutter, which was launched at the end of 2013.
Says Steve Chappell, Managing Director, Packaging Innovations (UK) Ltd: "We introduced the ORIS Flex Pack proposition to the market just over 12 months' ago and the response so far has been overwhelming. Progressive packaging companies and packaging design studios have been quick to understand the considerable advantages of a proofing and prototyping system that can offer the highest quality proofing and prototyping with realistic spot and metallic colours, and at the faction of the cost and time associated with traditional legacy packaging proofing systems.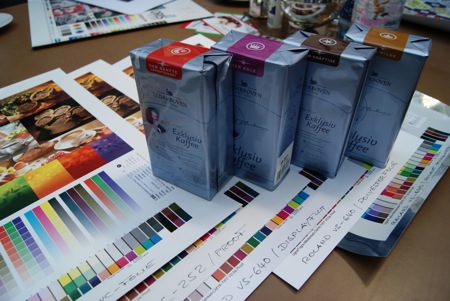 "The full ORIS Flex Pack package is a total turnkey solution for flexible and rigid packaging proofing and mock-up production, helping packaging companies and designers to deliver huge savings on time and costs with no compromise on the quality of the final product."
The ORIS Flex Pack solution provides a complete web-based hard copy and soft proofing in one package, meaning colour accurate and visually stunning prototypes and proofs, including those requiring metallic and white or spot colours, can now be quickly and easily produced in-house on a wide range of simulated media or the actual final production stock. At the show, the ORIS Flex Pack system will also integrate with Esko's spot colour database and Studio Store Visualizer, which allows users to create a virtual retail environment to test the visual impact of your latest design in situ; creating a seamless workflow from concept and design to output.
Concludes Mat Drake, Business Manager, Commercial Print, Roland DG UK: "The Packaging Innovations Show will provide Steve and his team with a great start to 2014. The event is known for its range of innovative technologies and products on show and the ORIS Flex Pack solution, incorporating our new VersaCAMM VS300-i is no exception to this. This system is making a real difference to customers, offering them huge flexibility and great new opportunities for creative proofing and prototyping. We're very proud to be leading the way in this regard with new, versatile machines like the VersaCAMM VS-i series."
To post a comment Log In or Become a Member, doing so is simple and free