Beniya Offset (Japan) realizes ink and energy reduction in web-offset printing with Azura
Monday, February 10, 2014
Press release from the issuing company
Agfa Graphics Japan announced today that Beniya Offset Co., Ltd. has started full-scale operation of Azura TS chemistry-free thermal printing plates with Agfa Graphics' Quick Dry Printing technique. By using Azura in web-offset presses, Beniya Offset found that the significant ink and water reductions also resulted in huge energy savings.

Mr. Imai, President of Beniya Offset and Chairman of the Nippon Web-Offset Printers Association, is very enthusiastic: "We set-up our web-offset presses based on Agfa's Quick Dry Printing and started using Azura TS on press. From the beginning we used far less water and ink than ever before. As a result it was also possible to lower the temperature of the dryer substantially and thus to save on energy costs. We had full support of our staff; they are all impressed by the results of this implementation."

Mr. Tim Van den Bossche, Vice President Global Marketing & Strategy, Agfa Graphics added: "Like Beniya Offset, the whole web-offset printing industry in Japan has extremely tight quality expectations and it is a team achievement that the chemistry-free Azura plates have been accepted in this industry. This will be looked at closely by the rest of the world."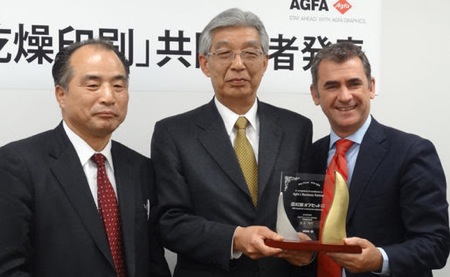 To post a comment Log In or Become a Member, doing so is simple and free