Design Duo Put Style Back Into Large Format Printing
Tuesday, February 04, 2014
Press release from the issuing company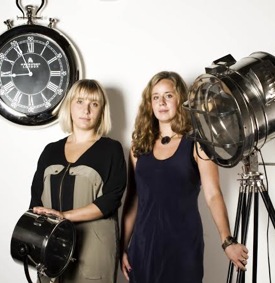 As part of a 12 month campaign from printMAX, the Roland reseller are introducing some of their more diverse customers. The first, Meystyle have worked with printMAX for five years now having purchased their Roland VersaArt RS-640 back in 2009.
Meystyle, a London based interior decoration firm, first looked to large format print to further their product offering, as is often the case.
Russian born sisters, Maria and Ekaterina Yaschuk set up shop in London back in 2001. With a strong design background, both sisters having graduated from Central Saint Martin's College of Art and Design, the collaborative design process lead the company down a successful and innovative path.
Meystyle are quite unique in their approach to interior design, specialising in wall coverings, the pair embrace both old and new technologies, and design concepts into their products. The result being some truly magnificent and one of a kind designs.
The sisters' designs are easily noticeable due to their take on materials vs technology, incorporating LED lights and Swarovski crystals into wallpapers along with using materials you wouldn't necessarily associate with wallpaper, such as leather.
Early 2009, their business was growing but the pair needed a way of bringing their bright designs to life through printing, the issue being that they were wary of compromising the quality and vibrancy that they were reputed for. The inks would need to be reliable, high quality and as strong in colour as their designs. With this in mind, Maria Yaschuk approached Roland's reseller, printMAX.
printMAX, the southern based Roland reseller, have a high reputation when it comes to the Roland large format printers. With such a focused product base you could almost say that the company specialise in the products, with unique and in depth knowledge of both the Roland brand and the products' end user benefits.
"The Roland VersaArt was the perfect solution for Meystyle as far as we were concerned, with its impressive colour reproduction and variable droplet control it can produce high density printing with vibrant colours and flawless reproduction." – Chris Martin, Sales Manager at printMAX.
With the high quality reproduction values required by Meystyle the Roland VersaArt was the perfect option. Also, with consistency being a key requirement, printMAX also looked to address this.
"The Roland Intelligent Pass Control, included in the majority of the Roland print range, further enhances image quality by precisely controlling dot placement between passes, allowing for banding – free, and high quality images." Chris Martin
Following the install, Meystyle were more than satisfied with their Roland, large format print investment.
"The Roland VersaArt has really enhanced our business. We are able to offer more variety at higher frequency by incorporating digital print into our production. The added bonuses of taking on the VersaArt as our first printer was how easy it was to not only operate but also maintain. Following our training with printMAX we felt really confident in using the Roland to its' full potential." Maria Yaschuk, Meystyle co-founder.
Five years later and the Roland VersaArt is still going strong, Meystyle continue to produce their high calibre wall coverings, now with the opportunity to add even more diversity to their designs. They still continue to use printMAX as their first port of call when it comes to their Roland printer.
"Knowing printMAX are only a phone call away is a real reassurance, we also value the quick turnaround when it comes to ordering consumables for our Roland. Whilst we are still happy using our Roland VersaArt, should the time come to upgrade we will return to printMAX for sure!" – Maria Yaschuk, Meystyle.
To get a better idea of the unique work that Meystyle produce, there are both videos and images available online at http://www.meystyle.com/ .
For further information on the Roland VersaArt range, visit http://www.printmax.co.uk/hardware/printers/roland/versaart-re-640.php or contact printMAX directly on +44 (0)1420 511539.
To post a comment Log In or Become a Member, doing so is simple and free