CTI Paper USA Launches Major Innovation in Kraft Papers
Tuesday, February 04, 2014
Press release from the issuing company
New technology advance: Glama KRAFT™ enables 6-color-plus offset printing for premium packaging and marketing collateral; substrate also ideal for heat-set web printing and laser/toner printing
SUN PRAIRIE, Wisconsin - CTI Paper USA introduces an important technology breakthrough that enables high-speed, multicolor printing of kraft papers: Glama KRAFT™ papers for brand packaging and commercial/specialty printing.
Value-priced premium, FSC-certified Glama KRAFT features a proprietary treatment that enables 6-color-plus sheetfed and heat-set web offset printing as well as production-rated laser/toner printing. The new product is made with 90% post-consumer fiber and 100% recycled content.
Glama KRAFT is available now across the U.S. and Canada to brand packagers, converters, print service providers and graphic designers. The specially engineered sheet reproduces vibrant, saturated colors, yields excellent ink holdout, image quality and print fidelity—and delivers outstanding performance on press.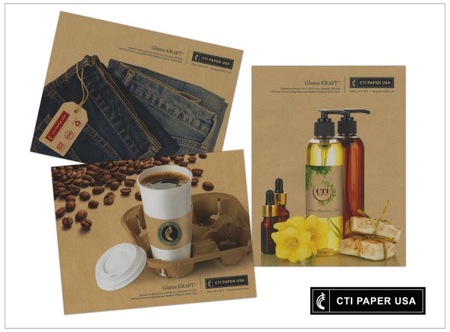 Privately held CTI Paper USA is one of the largest suppliers of premium digital and offset printing papers, envelopes and packaging papers in North America.
"Demand for printable kraft paper is growing worldwide because of its aesthetic and tactile appeal as well as its unique messaging value," said John Kelly, president and co-owner of CTI Paper USA.
"Glama KRAFT brings an entirely new color and design dimension to kraft paper while significantly reducing the total cost associated with producing finished print on it," Kelly added. "Importantly, our product also delivers the strong environmental attributes that buyers and end-users expect today."
Glama KRAFT is available in four weights—including a double-thick heavyweight—in a range of cut-size sheets, folio sheets and matching envelopes. It is also sold in custom rolls for converting and heat-set web printing. Color options are brown over grey, grey/grey and brown/brown.
High-value, high-profit applications across packaging and print
Applications include a wide range of retail/consumer products, food and beverage packaging, labels and tags, small lightweight bags, coffee sleeves, menus, greeting cards, announcements, invitations and matching envelopes. Glama KRAFT is also ideal for corporate identity, direct mail and other marketing collateral including business cards, brochures, presentation folders, covers and much more.
Glama KRAFT creates a wide range of new business opportunities for printers, converters and designers. The new substrate also provides streamlined productivity in the pressroom and bindery because of its ease of printing and strong performance on-press.
Multicolor graphics pop on Glama KRAFT, particularly when printed over a white opaque underlay and over other reflective inks. A new print demonstration from CTI Paper shows Glama KRAFT in a small sampling of possible applications for high-end retail, including specialty coffee, cosmetics/personal care and fashion. [See print demonstration here.]
Glama KRAFT accepts most standard finishing and post-press treatments including embossing, foil stamping, folding, die-cutting, perfect binding and saddle stitching.
"CTI Paper USA is continuously working to bring high-value, profitable new products to our customers," said Kelly. "Glama KRAFT is the state-of-the-art in printable kraft papers today."
"Brand packagers, printers, converters and graphic designers see strong potential to give their customers the look, feel, messaging value and affordability that only multicolor-printable kraft papers can deliver."
For more information about Glama KRAFT, contact CTI Paper USA at 800-284-7273, visit the website at www.thepapermill.com, or contact your local paper merchant.
To post a comment Log In or Become a Member, doing so is simple and free