Centro Stampa Quotidiani and Q.I. Press Controls sign for Italians first
Monday, January 27, 2014
Press release from the issuing company
Oosterhout – Centro Stampa Quotidiani (CSQ) and Q.I. Press Controls both will have their premiere in the Italian market. For the first time a newspaper press will be equipped with closed loop colour control: IDS on CSQ' WIFAG OF373/6 newspaper press. The investment will be for 8 IDS scanners for closed loop colour including dampening control.
Centro Stampa Quotidiani (CSQ) is a modern newspaper printing company which started in 2000. It was built as a separate printing company by 2 editors who merged their printing force. Their architectural attractive site in Erbusco houses 'state of the art' technology, with 2 WIFAG presslines: a WIFAG OF370/GTD consisting of 10 printing towers and 2 folders and a WIFAG OF 373/6 with 8 printing towers and two folders installed in two phases in 2008 and 2010. CSQ prints about 15 titles daily, amongst which national and local newspaper and foreign titles for local distribution. The total annual circulation is 125 million copies.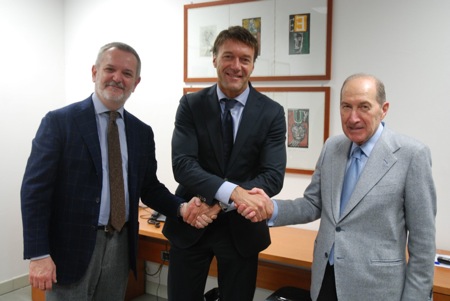 "We always follow new developments in the market very closely. As we already were familiar with Q.I. Press Controls because of the installation of their first generation colour register system (IRS) on our WIFAG OF370GTD press in 2005, we followed the developments on their IDS closed loop colour control as well," states Dario de Cian, General Manager CSQ. CSQ will be the first newspaper printer in Italy to work with closed loop colour control, enabling the press to reproduce colours extremely accurately and consistently throughout the run. This will generate savings in labour and waste. "Given the good experiences with Q.I. Press Controls being our supplier during the past years, their continuous drive to deliver innovative, reliable solutions that comply to customer needs and their good customer service made us decide to invest in their IDS closed loop colour."
Dario de Cian proceeds: "I was impressed by customer visits and by the results achieved in several business cases. Especially one of the latest added IDS features, dampening control, drew my attention.
The dampening-supply in the printing units may fluctuate at times and is now fully automatically identified and adjusted by IDS, and all at the same speed at which colours are adjusted. So, less worries about the control of the two-component offset process, ink and fountain solution control as they are now both automatically restrained by IDS."
Jaco Bleijenberg, International Director of Sales & Marketing of Q.I. Press Controls: "We are very enthusiastic about this order. Not only because again it proves the growing importance of closed loop colour control in the newspaper printing industry. This installation will also represent an important reference site for our Southern European market."
Carlo Caporizzi, CEO of GMDE and Q.I. Press Controls' agent for Italy: "This result confirms the good quality of Q.I. Press Controls' solutions and of its organization given that CSQ is a satisfied QIPC customer since its start many years ago. We are proud to be partner of Q.I.P Press Controls and a recognised solution provider of CSQ with which we have a very long story of positive relationship and mutual respect. CSQ with this new project, demonstrated once again its attitude to invest in innovation to keep their facilities always ahead on the market"
To post a comment Log In or Become a Member, doing so is simple and free