Pinstripe becomes the UK's first sheet fed B2 printer to be certified to BPIF ISO 12647-2
Monday, January 27, 2014
Press release from the issuing company
Birmingham-based Pinstripe Print Group has set another landmark first, for both the West Midlands and the UK, by becoming the first wholly sheet fed B2 printer in the UK to be certified to the new colour quality management scheme, BPIF ISO 12647-2.
The achievement comes soon after the group established another first last year, by becoming the first print group in the West Midlands to become a certified Carbon Balanced printer with The World Land Trust (certificate no: 140JTPI213), through paper merchant group, PaperlinX.
Pinstripe attained the ISO 12647-2 colour management scheme certification this month after completing the British Print Industries Federation's (BPIF's) ISO 12647-2 certification assessment under Print & Media Certification (PMC), a UKAS accredited body.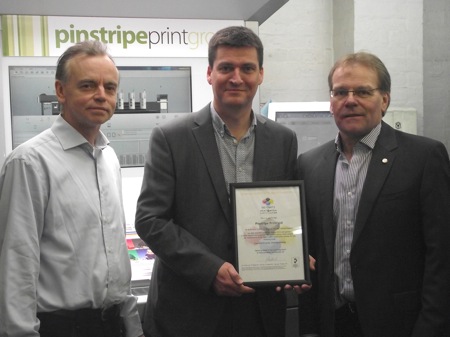 Developed by the BPIF, the ISO 12647-2 scheme is the only ISO 12647-2 certification scheme for which certification is accredited by UKAS (United Kingdom Accreditation Service), the only recognised accreditation standards body. Being totally independent, and not put in by a manufacturer, the scheme has been developed for sheet fed, web offset, digital and packaging companies, but has also now been expanded to cover the printing methods of both flexo and gravure, with independent verification auditing and certification being undertaken by UKAS accredited bodies.
BPIF ISO 12647-2 is a certification with full global recognition that requires printers to operate a colour quality management system, which is independently audited by a third party specialist auditing body. To attain certification, printers must pass an independent and third party audit of both the management system and a test product on an annual basis, with on-going compliance assessed every 3 months to ensure standards are continually maintained and adhered to.
In addition, printers must also undertake a comprehensive programme of equipment optimisation and testing. This involves a demanding print test involving the production of a 'perfect' ok sheet, along with a production run of 3000 sheets as well as digital proofs.
The BPIF ISO 12647-2 colour quality management certification scheme is the standard upon which most serious printing specifications are based.
BPIF ISO 12647-2 covers a range of printing conditions, including sheet fed and web offset litho printing and various paper types, and defines the requirements for predictable and reproducible print quality. By attaining certification, print companies can run print campaigns at different locations using a variety of technologies to the same exacting standards. The scheme enables production to be standardised, providing consistent colour reproduction regardless of the production process or substrate, thereby reducing wastage and allowing faster make-ready times to be established.
Commenting on the successful attainment, Pinstripe Print Group Managing Director, Nigel Lyon, stated, "This is a real challenging quality management standard to attain, with very few companies being able to achieve it. By attaining the BPIF ISO 12647-2 certification, Pinstripe are now amongst the elite in the print industry." He continued, "Others might say they can print to ISO 12647-2, but many do not have the strict management systems in place to ensure compliance every day, which I am proud to say we at Pinstripe do, and have the capability and verification to prove it!"
Explaining as to why Pinstripe chose the BPIF ISO 12647-2 certification scheme, Paul Stone, Pinstripe's Colour Champion, added, "We very specifically decided that it was not just sufficient to be working to the standard, but we felt that it was vital to be certified independently by an accredited certification body (PMC). This enables us to prove that we are not just paying lip service to the standard, a factor that many print buyers will agree with."
Jon Stack, director at Print & Media Certification, the only UK certification body accredited to provide certification for the BPIF scheme commented, "We are delighted that Pinstripe has become the first wholly sheet fed B2 printer to achieve certification in the UK. This achievement underlines the expertise of their systems and operations, which were audited by our specialist audit team."
The confirmation of the BPIF ISO 12647-2 certification sets another major milestone for the forward-moving Pinstripe, following successful completion of a significant £900,000 investment programme in 2012/13
This included:
Upgrading the digital equipment
Acquiring the latest Heidelberg XL75 litho press – the most sophisticated B2 press in the world, with coater, extended delivery, IR drying, full Inpress (in-line) colour control and capable of printing up to 800 micron
Chemical free prepress
Upgrading the studio and prepress facility and installing the latest Heidelberg Prinect workflow system
Upgrading the MIS systems
Acquiring new digital finishing equipment
This investment, along with Pinstripe's existing capabilities, places Pinstripe as one of the most technically advanced print and print management businesses in the UK. Pinstripe operates in the following markets; Public Sector/Local Government, Retail, Banking and Financial, Service and Agency.
Pinstripe is a well-respected marketing and print service provider, operating from a purpose built, 18,000sq ft. factory unit, situated in central Birmingham. The company works under 14 Framework Agreements and several Preferred Supplier Agreements. They are based in the centre of Birmingham and work with an enviable list of customers including; Stonegate Pub Co., NEC Group, Centro, Birmingham City Council, Aston and Coventry Universities, Keele University and the University of Warwick, Birmingham University, West Midlands Fire Service, Coventry and Solihull Council's, Shaylor Plc, Trinity Mirror, Birmingham Dog's Home, Kitchen Craft, Warwickshire CCC, Investec and Midlands Art Centre.
As a "marketing support services provider" Pinstripe's product and services offering covers the whole spectrum. Its product range includes; brochures, annual reports, magazines, leaflets, manuals, maps, catalogues, point-of-sale material, exhibition collateral and stands, promotional merchandising and corporate wear.
Along with attaining the BPIF ISO 12647-2 certification, Pinstripe is also ISO 9001 and ISO 14001 certified, OHSAS 18001 and both FSC and PEFC Chain of Custody certified and is a certified Carbon Balanced Publication printer. Pinstripe also works and adheres to the Data Protection Act 1998 standard.
Pinstripe is also a member of the following organisations: Platinum member of The BPIF (British Printing Industry Federation), Birmingham Chamber of Commerce, Birmingham Business Link and Two Sides.
To post a comment Log In or Become a Member, doing so is simple and free